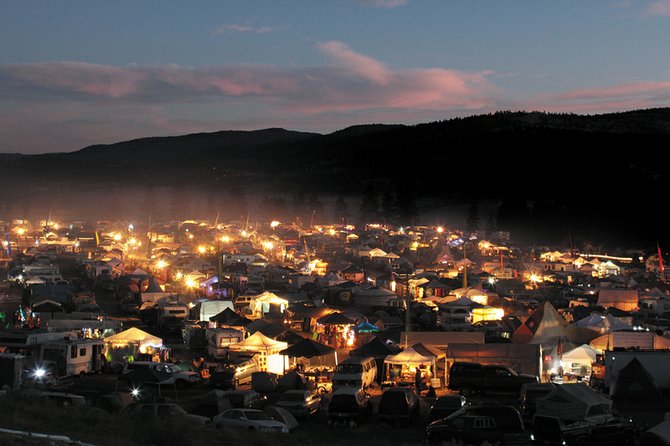 Photo by Garrett Rudolph
Campfires, lanterns and flashlights light up the Okanogan Family Faire city on Saturday night.
TONASKET — Although crowds were down somewhat at this year's Okanogan Family Faire, the small plot of land east of town still grew into the largest city in Okanogan County over the weekend.
"We think that it's a lot less than most of the years recently," Family Faire Treasurer Peter James said. "We still think we'll have enough money to pay the bills and give out some grant money."
James estimated between 5,000 and 6,000 people attended the event, known more commonly as Barter Faire. This was the 40th anniversary of the event, which has gone through a number of name changes through the decades.
Last year's event boasted somewhere around 7,000 visitors, James said.
"It's been dwindling a little each year," he said.
With the economy, everybody's been feeling the pinch, although "not so much for the alternative crowd because they didn't have anything to begin with," he said.
James has been a volunteer since the beginning of the faire, but took a 20-year hiatus in the middle.
Throughout the event, folks talked about how many faires they had been to. Some, like James have been there since the event began in 1973. Others have less experience, but most were thrilled by the festival.

Nine-year-old Wisdom Abrahamson, from Mount Vernon, is already a Barter Faire veteran. He said he was attending the event for the sixth year.
Bud Hosington, from Wellpinit, was attending the event for the first time. He said he was shocked at how many people were there.
"It's just crazy," he said, looking out at the masses from the top of the hill overlooking the property.
While James said the reduced turnout does have an effect on how much the non-profit organization can donate, he did say it's easier to staff and generally creates less problems.
The Barter Faire staff are broken into 54 departments, James said. Each department ranges from two or three people to 20 people, amounting to about 500 volunteers.
"It was a great, smooth faire this year," he said. "We had a few bumps, but we expect a few bumps."
One bump happened Sunday just after midnight, resulting in the arrest of a Chattaroy man.
Okanogan County Undersheriff Joe Somday said Michael Scott Maloney, 26, apparently pulled a knife on a vendor.
The vendor described Maloney as "tripping," Somday said.
There were no injuries.
Maloney was arrested on suspicion of first-degree assault.
Otherwise, Barter Faire was pretty quiet and had no problems, Somday said.