OMAK — It took more than two years and hundreds of volunteer hours, but the latest Okanogan Habitat for Humanity project is oh, so close to being ready for the Lopez family to move in.
The non-profit organization hosted a dedication ceremony Sunday at the new home at 701 Willow Lane, giving volunteers an opportunity to celebrate along with the recipients, Ramon Lopez, his wife Maria, and their three children, Jorge, Jazmin and Ramon Jr.
Ramon and Maria Lopez expressed their gratitude to the volunteers through an interpreter.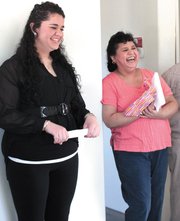 "Thank you for having worked on our dream," Maria Lopez said.
The dream, she said, is finally becoming a reality.
Volunteer Stephen Smith said the project had its share of hitches along the way, causing the build to take about twice as long as normal.
But Sunday, the results of those long hours for both the family and the volunteers were all witnessed by more than a dozen people in attendance.
Smith called it a labor of love.
The Rev. Jake Morton performed a blessing ceremony on the house as guests, family members and volunteers toured the almost-completed home.
The family has far exceeded Habitat's requirements for 500 hours of "sweat equity," local chapter President Arlene Johnson said.
Ramon Lopez spent every Saturday helping out.
Besides sweat equity, families moving into a Habitat home must be able to pay the monthly mortgage. However, they're only on the hook for the cost of non-donated materials. There's no interest charged on the home loan, which usually has a lifetime of 20 years, and the total cost includes taxes and insurance.
All in all, it adds up to less than $500 per month, Johnson said, for an estimated $80,000 house.
The property itself was purchased by Habitat for Humanity for $17,000.
The house, about 1,090 square feet with three bedrooms and two bathrooms, was built specifically for the Lopez family, Arlene Johnson said.
To qualify for a Habitat home, a family must be living in housing that's overcrowded, unsafe or at a cost too high for their income. The family also cannot be eligible for bank financing and can't have too much debt.
Ramon Lopez thanked the Habitat for Humanity organization first and foremost for selecting his family as the recipients.
This is the seventh house for the Okanogan County Habitat for Humanity. One house is located in the same Wildwood neighborhood, very near the Lopez house.
Two homes were built in Oroville and three more in Tonasket.
Annual fundraisers include a yard sale, the early summer home tour, and entertainment and worship events.
The local chapter was started in 1996 as the North Okanogan County Habitat for Humanity, but expanded to include the Omak area about three years ago.
Johnson said the affiliate's tithe has also helped pay for homes and home improvements in Mexico and Colombia.