Lately, the staff at The Chronicle has been talking a lot about technology. The roll out of our revamped website is just the beginning of what will eventually be major changes, not just for the immediate future, but for the long-term success of our company — and, not just for our paper, but for the entire print news industry.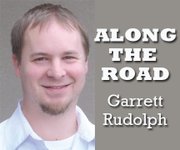 Now, admittedly, I'm far less tech-savvy than most people my age.
And far, far less fluent in modern technology than the average 12-year-old today.
But I recognize the need for keeping up with the changes and, as a news organization, feeding the public's insatiable appetite for new information in a short-attention span world.
Recently, there's been some talk of replacing desktop computers — or at least relegating them to backup duty. The old, faithful, familiar — although not particularly speedy or portable — metal boxes and monitors and keyboards and mice could potentially be a thing of the past.
It's a concept that would have had me running for the hills five years ago.
Perhaps joining the smartphone era within the past couple months has prepared me to entertain the notion of ditching a desktop computer.
I now find myself using my smartphone for many of the tasks that were the sole responsibility of my laptop. Even when my laptop is easily within reach, I can check my personal email far quicker on my phone.
I never really tested the smartphone waters. I stayed out of the pool for a long time, but when I finally gave in to the pressure, I dove in head first.
I'm not ready yet, but I'm getting closer to jumping on-board with a tablet.
I'd like to hear from readers who have transitioned from using a desktop or even laptop computer to mostly using a tablet.
What have been the biggest factors for your changes? What are the pitfalls? What are some of the benefits you didn't realize until using one regularly?
Was it work, play or a combination of both that led you to a tablet?
And be honest … are they simple enough for somebody who still uses a VCR?
Garrett Rudolph is the managing editor of The Chronicle. He can be reached at 509-826-1110 or via email at grudolph@omakchronicle.com.