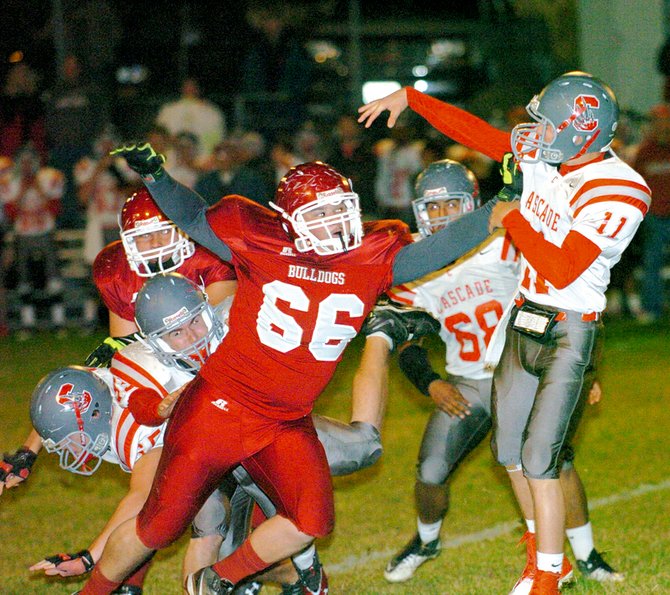 Photo by Al Camp
Okanogan's Kenny Johnson applies pressure to Cascade quarterback Austin Murdock.
OKANOGAN — Okanogan celebrated homecoming by topping Cascade, 29-15, and taking over second place in the Caribou Trail League.
The Bulldogs, the only team out of four in the area to win its homecoming battle last weekend, combined a stingy defense with an offense that could not be contained.
"It was a good win," Okanogan coach Erick Judd said. "I felt like it was a well-played game by both teams."
The game remained in doubt until Justin Rivas picked off a Cascade pass on fourth-and-17.
Rivas took the pick-six the other way for a 37-yard touchdown with 27 seconds to go.
After a kickoff, Fabian Rodriquez sealed the victory with an interception on Cascade's next play.
Okanogan struck first when quarterback Rivas (12-146), on third-and-10 at Cascade's 43, raced left, cut back right and found a clear lane to the end zone. Arturo Ramos kicked the extra point.
In the second half, Cascade's Dennis Merrit (19-162) quickly raced down the left side before Rivas pushed him out of bounds.
"Merritt finally found where the cut back lanes were," Judd said. "With a back like that, if he gets open space, he's pretty much gone. We tried to keep everything bottled up at the line of scrimmage. We did a great job all night except for about three times (runs of 60, 52 and 23 yards)."
"It took them four plays to get in from the five," Judd said. "It helps build your confidence back even though they scored."
After two offside penalties, Cascade opted for the two-point conversion, which it got for an 8-7 lead.
Okanogan struck back in two plays — a halfback pass from T.J. Morris to Rodriquez and Rivas running the final 42 yards for a 14-8 lead.
Rivas took over for quarterback Clay Ashworth, who was injured against Connell in the second game of the season.
"Clay's injury requires that he no longer participates in athletic events," said the quarterback's dad, Ed Ashworth, who thanked everyone for support. "His injury requires rest and time."
On Cascade's first play after an Okanogan onside kick, Merritt peeled through the line and raced 62 yards and a 15-14 lead with 8:16 left in the third.
"There was a minute I thought it was going to be a track meet," Judd said.
Okanogan, taking advantage of the blocking of its line, including Townsend at slot back, Enrique Vargas at guard and Will English at tackle, moved down the field and scored on a Rivas 3-yard run.
Okanogan (6-1 overall, 4-1 league) heads south to Quincy (3-4, 3-2), a 56-0 winner last year, for a 7 p.m. game Friday, Oct. 25.
"They are playing pretty well," Judd said. "Their defense flies around to the ball. They have not given up that many points (106 in 7 games).
"I think the biggest thing will be being patient," the coach said.
BREWSTER – Cashmere took a 59-24 decision from Brewster on Oct. 18, but the Bears found they could move the ball in the air against the No. 8 state-ranked Bulldogs.
"I thought defensively we let too many big plays happen," Brewster coach Jake Johanson said. "We wanted to take away their running game, but every time we had them on third down, we gave up a big play.
"Offensively, they bottled up our run pretty good (4 yards). We did however find success passing the ball."
Mitch Boesel completed 19 of 30 passes for 329 yards, 4 touchdowns and 1 interception.
Catching touchdowns were Cameron Jacobsen (65 yards; 3-81), Hayden Bayha (4 yards; 5-26), Chris Varelas (14 yards; 2-46) and Cade Smith (70 yards; 8-167). All four conversions failed.
Nick Perkins caught a 9-yard pass to set up one of the touchdowns, Johanson said.
Brewster (3-4 overall, 2-3 league) is at Chelan (4-3, 3-2) on Friday, Oct. 25.
TONASKET – Quincy ran past Tonasket, 44-6, spoiling the Tigers homecoming Oct. 18.
"Our offense was really sloppy in the second half," Tonasket coach Jay Hawkins said. "We turned the ball over four times in the second half (5 total turnovers for the game). We have done a nice job up until this game of taking care of the ball.
"Quincy really wore us down physically. They are a real good defensive team."
Tiger rushers included Michael Orozco (12-52), Collin Aitcheson (11-36) and Isaiah Albright (3-26, 1TD).
Trevor Terris was 5-11 passing for 22 yards and 2 interceptions.
Receivers were Derek Sund (2-18), Roberto Juarez (2-5) and Kjeld Williams (1-(minus-1)).
Tonasket (2-5 overall, 0-5 league) is at Omak (0-7, 0-5) for the Pioneers homecoming Friday, Oct. 25.
CHELAN – Chelan beat Omak, 45-0, in a league game Oct. 18.
"The team played hard again this week," Omak coach Nick Sackman said. "They never gave up and fought to the end."
Chelan raced off to a 31-0 halftime lead, scoring four times on the ground to go with a 25-yard field goal.
"Offensively, we were able to move the ball, but were unable to convert a few third downs to keep drives alive," Sackman said.
Joe Best (5-15-1, 71 yards) is playing quarterback in the place of Alex Aguilar, who is out for the season with a back injury.
Dustin Thorp (19-74) led the Pioneers on the ground.
Tonasket (2-5 overall, 0-5 league) is at Omak (0-7, 0-5) for the Pioneers' homecoming game Friday, Oct. 25.
Caribou Trail League
Cashmere 5 0 6 1
Okanogan 4 1 6 1
Cascade 3 2 4 3
Chelan 3 2 4 3
Quincy 3 2 3 4
Brewster 2 3 3 4
Tonasket 0 5 2 5
Omak 0 5 0 7
uuuuu
COULEE DAM – Oroville knocked out Lake Roosevelt, 42-14, in the Raiders' homecoming game Oct. 18.
"I was very proud of our effort and toughness against a physical opponent," Lake Roosevelt coach Steve Files said. "We came back strong in the third quarter making it a one-score game."
Three second-half turnovers and an unsuccessful onside kick hurt the Raiders' comeback.
Oroville led 14-0 after the first quarter after scores by Tanner Smith on a 10-yard run and Dustin Nigg on a 15-yard run. Nigg kicked both extra points.
Lake Roosevelt responded with a 63-yard drive capped by Austin Rosenbaum (7-33) on a 1-yard dive with 8:01 left in the second quarter.
Nigg (10-64) extended the lead on a 4-yard scoring run.
Lake Roosevelt scored on a 3-yard run by Kyle Holt (8-86) late in the third quarter. Chance Garvin ran for a two-point conversion to put the Raiders down 21-14.
But the rest of the way was all Oroville, with Smith (10-80) scoring on a 3-yard run, Luke Kindred (18-153) on a 7-yard run and Kindred (2-4, 23) passing 20 yards to Smith.
Also for the Raiders, Josiah Desautel rushed 6 times for 42 yards.
Rosenbaum completed 1 of 9 passes for 11 yards and was intercepted 3 times (Nigg 2; Kindred 1).
Boone McKinney recovered a fumble for the Hornets.
Liberty Bell (2-1 overall, 2-1 league) is at Lake Roosevelt (3-4, 0-3) and league-leading White Swan (5-3, 3-0) is at Oroville (5-1, 3-1) for the Hornets homecoming Friday, Oct. 25.
"I think our best football is still ahead of us," Files said. "We're looking forward to making improvement against Liberty Bell."
Liberty Bell had a bye last week.
"This is a big game for us," Liberty Bell coach Sy Bannick said. "We are coming off a heartbreaking loss in Oroville and need to get back on track."
BRIDGEPORT – Kittitas soured Bridgeport's homecoming with a 36-23 victory Oct. 18.
"This game was close the whole way," Bridgeport coach Kyle Krustangel said. "It was a one-possession game until the fourth."
Jonathan Oregon (18-156) scored on runs of 7, 17 and 2 yards for Bridgeport, which also picked up two points on a safety.
Bailey Morris-Evenson was 4-12 passing for 40 yards.
Receivers included Christian Lopez (2-25, Jose Garcia (1-5) and Kip Craig (1-10).
Hector Garcia added 92 yards rushing on 12 carries.
Bridgeport (0-8 overall, 0-3 league) is at Manson (1-5, 1-3) on Friday, Oct. 25.
Central Washington 2B League
White Swan 3 0 5 1
Oroville 3 1 5 1
Kittitas 3 1 3 3
Liberty Bell 2 1 2 1
Manson 1 3 1 5
Lake Roosevelt 0 3 3 4
Bridgeport 0 3 0 8
uuuuu
PATEROS – In a game expected to be a shootout, Pateros won a lopsided 54-20 victory over Entiat in an Oct. 18 matchup of Top B8 teams.
Pateros started strong with Lance Evans passing 35 yards to Carlos Ceniceros.
Evans also found Mikey Piechalski on touchdown throws of 13 and 76 yards to put the Billygoats up 22-6 after the first quarter.
Piechalski ran 24 yards, Evans returned an interception 36 yards and Jorge Caballero ran 12 yards to put Pateros up 46-14 at the half.
Piechalski ran 4 yards in the fourth quarter for the final margin.
"Jorge Caballero and Sam Eberhardt got the running game going for us," Pateros coach Marcus Stennes said of the first quarter. "That opened up our passing game and we took advantage of it.
Pateros (4-3 overall, 3-2 league) is at Soap Lake (4-3, 1-3) for a key game Friday, Oct. 25.
"It's pretty important to help us keep the third spot locked up," Stennes said. "The Top 4 play a crossover game with the north league."
Northeast 1B League-South
Wilbur-Creston 5 0 6 1
Odessa-Harrington 3 1 4 3
Pateros 3 2 4 3
ACH 2 3 2 5
Entiat 1 3 3 4
Soap Lake 1 3 4 3
Waterville 0 4 0 7
uuuuu
CURLEW – Curlew rode the legs of sophomore Gunner Brown to post a 63-26 win over Wellpinit on Oct. 18.
Brown rushed for 261 yards on 17 carries and scored 6 touchdowns for the Cougars, who won a second straight game.
Brown's scores included 36, 31 and 50-yard gallops.
Mathan Knapp passed 11 yards to Kyle Engebretson, Chance Wheaton ran for two scores (35 and 26 yards) and Jeared Borrego scored on an 11-yard run for Curlew, which led 50-0 at one point.
Curlew (2-5 overall, 2-4 league) is at Northport (0-7, 0-5) on Friday, Oct. 25.
WATERVILLE — Republic pounded Waterville, 66-24, in a non-league game Oct. 18.
The Tigers were led by the 4 touchdowns of Alex Rivera (214 yards). He rushed for scores of 75, 46 and 5 yards and caught a 40-yard pass from Aaron Fritts.
Republic led 30-16 at the half before exploding for 28 unanswered points in the third quarter.
Walker Baumbach rushed for two scores (35 and 24), Fritts ran for two and Garrett Weller caught a touchdown pass of 46 yards.
Defensively, Baumbach led with 18 tackles and 2 fumble recoveries.
In a key matchup among two of the Top 3 teams in the north (Cusick is the other), Inchelium-Columbia (5-2 overall, 3-1 league) is at Republic (5-2, 4-0) for the Tigers' homecoming Friday, Oct. 25.
"The Inchelium-Columbia game is super big this week," Republic coach Chris Burch said. "If we win, we would take the north and host the No. 1 from the south, which is Wilbur-Creston right now.
"If we lose, there would be a three-way tie at the top (among) us, Inchelium-Columbia and Cusick."
INCHELIUM – Cusick stayed in the hunt for the Northeast 1B League's northern division title by setting back Inchelium-Columbia, 58-20, on Oct. 18.
Noah Zehetmir (20-162) scored on a 51-yard run, Edwards Stensgar on a 41-yard run and Quentin Holford on a 14-yard run for the Timberwolves.
Inchelium-Columbia (5-2 overall, 3-1 league) is at Republic (5-2, 4-0) Oct. 25.
Northeast 1B League-North
Republic 4 0 5 2
Inchelium-Columbia 3 1 5 2
Cusick 3 1 4 2
Selkirk 3 2 5 2
Curlew 2 4 2 5
Wellpinit 1 4 1 6
Northport 0 5 0 7