Over the years, I've been critical of government land ownership. You don't have to look any further than flawed and inaccurate policies and statements on so-called "roadless" areas, spotted owl habitat, lynx initiatives, forest fires and ever-increasing government restrictions to see why.
But last Friday night, thanks to the Okanogan County Farm Bureau, my eyes were opened to more reasons, at least when it comes to federal management and ownership. During the bureau's annual banquet, Ken Ivory of the American Lands Council offered the keynote address, highlighting efforts across the West to reduce federal land ownership, and at least transfer titles back to state governments.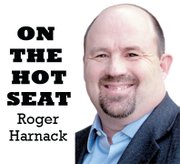 Call it "Sagebrush Rebellion II."
While I was growing up, "sagebrush rebels" – including Ronald Reagan – took the federal government to task for holding millions of acres of western lands. They called on the federal government to relinquish control in the name of grazing and mineral and natural resource extraction. The Sagebrush Rebellion was explained briefly in my subsequent high school and college civics and history classes.
That effort subsided in the 1980s and largely lay dormant until 2009, when Hawaii took the federal government to court to gain control of most public land within its boundaries. With Hawaii's success, several other western governors, lawmakers, residents and the American Lands Council have revived the rebellion.
According to Ivory, Montana, Idaho, Washington, Oregon, Colorado, Wyoming, Utah, Nevada, New Mexico, Arizona, California and Alaska face the same problem – massive land ownership by the federal government. That ownership has led to less recreational opportunities, increasingly intense forest fires and reduced revenues for municipalities and schools. In short, those problems are the result of complacency by western residents and their state governments.
But we cannot afford to be complacent anymore. And the partial shutdown of the federal government in recent weeks demonstrates why.
Here in North-Central Washington, our public trails, boat launches, parks and other amenities controlled by federal officials were blockaded in the name of increasing federal debt and expenses. Transferring those amenities to state and private ownership will prevent that from happening again.
Five western states — Montana, Utah, Idaho, Nevada and Arizona — have already passed laws spelling out their claim to federal lands. And their congressional delegations have vowed to support that effort in Washington, D.C. We should do the same.
There are many reasons:
The federal government is bankrupt and borrowing beyond its means. Selling the land to at least the states would lift a management burden off federal agencies while adding money to the federal coffers. The American Lands Council estimates $150 trillion in natural resources is locked up in the land managed by the federal government.
Western states could afford to retain ownership of the land by offering better, more efficient opportunities for harvesting natural resources without decimating the aesthetic beauty of the land. States could also sell some or all of it into private ownership. Either way, revenues for natural resource contracts or Land From A4
increased taxes due from private ownership could lead to much-needed money for state and local governments, and our schools.
Numerous jobs would be created. Don't believe me? Look at what Kinross Gold Corp. has done for the economy of Okanogan and Ferry counties. And look at the optimism restarting the Omak Wood Products plywood mill is doing in the Omak area.
When our state joined the union Nov. 11, 1889, the federal government approved a "solemn compact" with Washington to hold land only in trust until it was sold. As a state, we never changed that binding compact. So, we should demand our state and federal officials honor it.
Transfer of federal ownership to state and private ownership won't mean unabated clear-cut timber harvests and irresponsible strip mining of prime recreational areas. We can make provisions for North Cascades, Mount Rainier and other national parks and wilderness areas, as has been done on the East Coast and across the Midwest. We can also pass laws to designate some other areas as parks, recreation areas or wilderness to be managed by the state or local governments.
Private ownership of land is one of the basic principles on which our nation was founded. That fact was instilled in me in my civics and history classes in high school and college. What I didn't learn until last week was that a partial answer to some of our nation's most pressing financial problems lies right here in our own backyard, and the rest of the West.
Roger Harnack is the editor and publisher of The Chronicle. He can be reached at 509-826-1110 or via email at rharnack@omakchronicle.com.