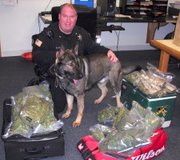 OKANOGAN — Sheriff's K-9 deputy Boss died Oct. 17 after undergoing emergency surgery last week.
Okanogan County Sheriff's Office Undersheriff Joe Somday said the 3-year-old German shepherd suffered from "flipped stomach," a condition that mostly affects large, deep-chested dogs.
The condition involves the stomach flipping over itself, cutting off the flow of food to the intestines and sometimes cutting the blood supply to the stomach and pinching nerves.
Chief Criminal Deputy Dave Rodriguez said the dog, handled by deputy Shane Jones, underwent surgery with Brewster veterinarian Mike Isenhart.
Boss was trained in narcotics detection. Somday said the dog likely will be replaced.
A trained drug-sniffing dog, deputy training, certification and other costs could run to $10,000, he said. Donations will be accepted for the K-9 program.