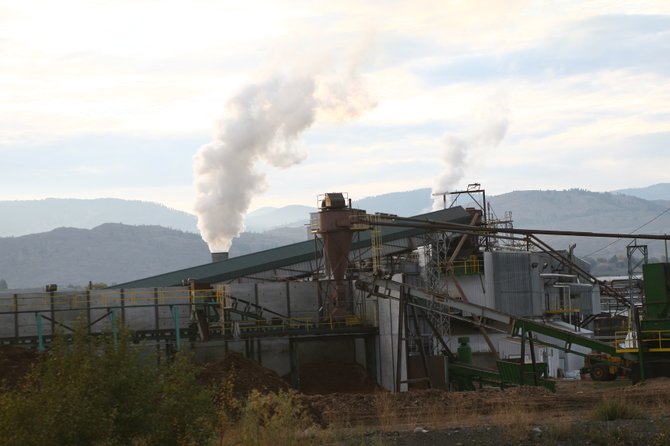 Photo by Garrett Rudolph
The Omak Wood Products mill, pictured last week, was forced to shut down Thursday due to a damaged bearing in a boiler pump.
OMAK — Less than one month after reopening, the Omak Wood Products mill was shut down Thursday due to a damaged bearing on its boiler feed water pump.
Omak Wood Products President Richard Yarbrough said the burned-out bearing was cause to shut down the entire boiler. Without the boiler, mill officials had no choice but to send employees home until the pump can be repaired.
Yarborough said the pump is in the process of being repaired. It is expected to be back up and running "first thing Monday morning," Yarbrough said.
The motor pump in question had been brand new, he said, noting the damaged boiler coincided with officials from the state Environmental Protection Agency and the Colville Tribes' Environmental Trust walk-through of the mill. But the shutdown was not due to environmental violations.
Environmental Protection Agency spokeswoman Suzanne Skadowski confirmed the shutdown was not due to air-quality violations.
Yarbrough said there has been a lot of smoke coming out of the mill lately, which tends to hover low to the ground, particularly on cold mornings.
"One of the things that I want to do is tell the people in the town, 'sorry,'" Yarbrough said.
He said the boiler will burn more cleanly once it is brought up to full speed.