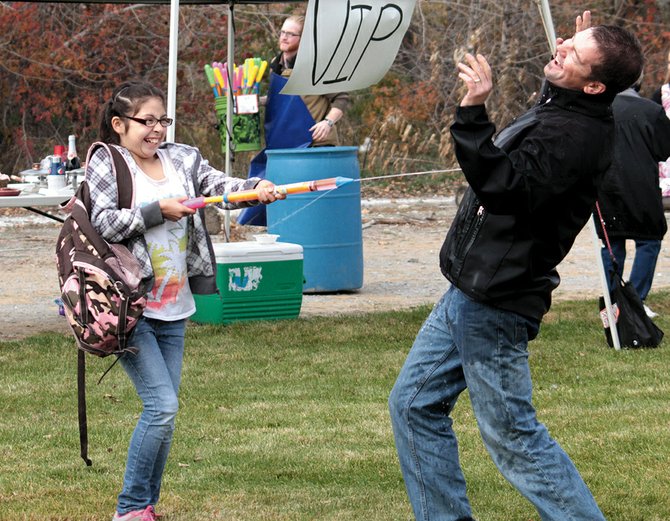 Photo by Garrett Rudolph
Carina Aviles squirts Tonasket Elementary School Principal Jeremy Clark at the Tonasket Water Ranch groundbreaking celebration Friday at Chief Tonasket Park.
TONASKET — An arduous fundraising challenge is nearing its ultimate goal for a group of local volunteers.
Linda Black, who spearheaded the fundraising effort, and other members of the community hosted a ceremonial groundbreaking for the Tonasket Water Ranch on Friday afternoon at Chief Tonasket Park.
"It's so close we can taste it," Black said. "It's going to be exciting."
Black said construction is planned to start in the spring, with completion scheduled for summer 2014.
Friday's event opened with dozens of students from Tonasket Elementary School using water guns to hose down Principal Jeremy Clark, Mayor Patrick Plumb and Splash Man — the theme character for the water ranch.
Clark turned out to be a favorite target for his students, walking away from the ceremony completely drenched.
"I anticipated it would be a little bit of water," he said. "I had a wonderful surprise. It was a great thing to be able to promote that for our community. It's going to be a fantastic community piece."
It wasn't the first time Plumb has been soaked in the name of the Tonasket Water Ranch.
Plumb was drenched in water during a chilly February meeting of the City Council in commemoration of the Tonasket Water Ranch hitting $50,000 raised.
Black initially proposed the Tonasket Water Ranch to City Council in December 2012.
Now, Black and the group of people she calls her "Wonderwomen" — Elise Peacemaker, Jera Donner, Stacy Kester and Kathy Olson — have raised about $153,000 for the project so far.
"We have worked really hard for this money," Black said.

Contractor Ty Olson will begin building the water ranch in the spring.
So far, enough money has been raised to cover the costs of engineering, equipment and construction of the park, but the group is still working to bring in another $10,000 for picnic tables and other amenities.
"Raising this money has been something else," Black said. "Over half of that came from outside the community."
Black said throughout the process, she has tried and failed at many different fundraising attempts, trying to find the best way to raise the money needed.
"There were so many times I wanted to quit," she said.
Kick starting the project was an anonymous donation of $25,000.
Fundraisers along the way have included the Big Splash BBQ, a 5K fun run and an event at Esther Bricques Winery. A grant helped pay for the park's signage.
The final $10,000 will be raised by selling metal fish that will decorate the Water Ranch. Each $100 fish has been donated by a local person. No tax money will be used for the park, but once completed, it will be owned by the city.
The spray park itself will be made up of 15 different animal features that spray water. Each will be activated on timers, so no water will be running unless the park is in use.
Black said there will also be several local artists that will contribute pieces to decorate the water ranch.
The idea for the water ranch initially began as a combination of providing something for the area youth and for an attraction for the many visitors that come through North Okanogan County each year.