Just one week remains until election day.
Obviously, without the thrill of a presidential race or major state initiatives, this upcoming election seems lackluster compared to 2012.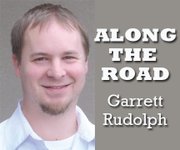 But these aren't the Olympics or the World Cup – you can't just pay attention every four years. I believe for a Republic, such as ours, to function properly, its citizens need to take a certain amount of civic pride. Being able to vote is a right many people in the world have never experienced — and within our borders, far too many neglect to consider it part of their duty.
I know all the arguments of disenfranchised voters.
People say their vote doesn't matter.
People say elected officials, regardless of party, are in politics for their own benefit, not the benefit of those they serve.
People feel the system is rigged.
In some regards, it's hard to argue with those points.
But there's one thing that is an absolute certainty: Your vote will not matter at all if it's not submitted.
I know the upcoming election is not the most exciting we've ever seen, but I still find it important for people to make their opinion count.
I find early ballot returns to be a bit disappointing. Of the 3,198 ballots Okanogan County has sent out, just less than 20 percent have been returned.

Ferry County's response has been even lower.
Ferry County voters had returned more than 800 ballots out of 4,457 mailed.
Ballots may be mailed, with a postmark of Nov. 5 or earlier, or dropped off at the auditor's office in the voter's county of residence, 350 E. Delaware Ave., Republic, or 149 N. Third Ave., Okanogan.
Okanogan County drop boxes are located at Omak City Hall, 2 N. Ash St.; Tonasket City Hall, 209 S. Whitcomb Ave., and near Pateros City Hall, 180 Pateros Mall. In Ferry County, a drop box is at Republic City Hall, 987 S. Clark Ave., Republic.
Garrett Rudolph is the managing editor of The Chronicle.
He can be reached at 509-826-1110 or via email
at grudolph@omakchronicle.com.