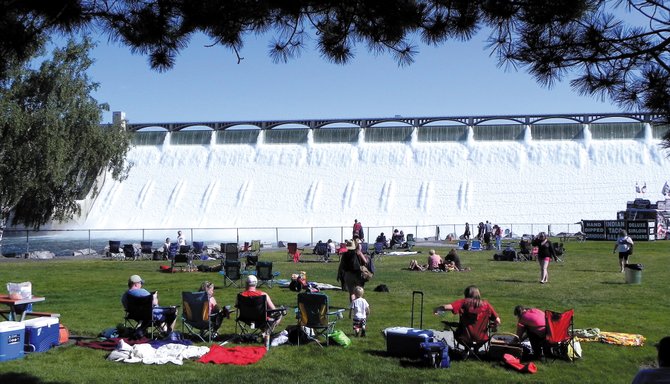 Photo by Roger Harnack
Water flows over Grand Coulee Dam as viewed from the park below the visitors center.
GRAND COULEE — A minor ground fault occurred Oct. 23 at Grand Coulee Dam, but there were no injuries or damage to the lines, generator or transformer.
Some minor surface damage occurred to the concrete on the face of the dam at the fault location, officials said.
The incident happened above the left powerhouse as the No. 8 generator penstock was being filled with water after undergoing maintenance, officials said. As the penstock filled, air releasing through the vent valve on the face of the dam forced water out of the vent.
The water stream was close enough to an energized power line to cause a path for electricity to flow from the line to the source of the water at the vent outlet, officials said.
The Bureau of Reclamation is performing technical analysis on the cause of the fault to prevent similar events in the future.
The bureau oversees dam operations.