OMAK — A local business owner has donated two sets of animal oxygen masks to fire departments in Okanogan County and has plans to deliver two more.
Joey Wilson, owner of Joey's Bark and Bath, donated one set to the Okanogan Fire Department last Monday and gave a second set to Omak Fire Department on Thursday.
She still has two more sets to donate.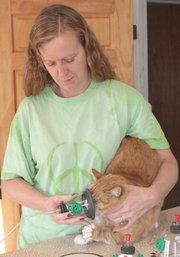 Most likely, she said, one will go to Oroville and the other will go to Brewster, so that the potential pet-savers can be spread throughout the county.
Wilson said she was inspired to raise money for animal oxygen masks when one of the dogs she groomed died in a house fire last spring.
Wilson said she used Facebook to get the word out about her fundraising efforts, and she was spurred on by the clients of her business, located at 201 S. Main St.

"It was amazing how many people donated," she said.
Wilson raised close to $400 to purchase the masks. Each set includes three different sized masks — small, medium and large — and costs about $85.
Okanogan Fire Chief Gordon Hennigs said Friday he had yet to see the masks, but this would be the first time his department has had oxygen masks for animals.
"We try to save any life," he said. "If we can save an animal, it makes us just as happy."
Wilson said pets are often forgotten in an emergency situation such as a fire, but in her 20 years of pet grooming, she knows people will do anything to save their animals.
"I've been an animal lover my whole life," she said. "I know that my own pets are like my kids."
She said she plans to donate the final two sets of animal oxygen masks sometime within the next week.
Her fundraising efforts may not end there, either. She said she may continue the effort to equip other fire departments or emergency responders with animal masks.
"I pray to God they will never have to use them," Wilson said. "But they'll have them if they do."