The Omak boys cross country team and Liberty Bell girls soccer team recently were named fall team academic state champions.
Omak finished with a 3.791, which was the best for a 1A boys cross-country team.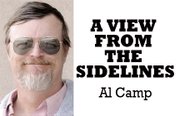 The team includes Morgan O'Dell, Sam Goble, Jasmair Bains, Ben Kraske, Jag Bains, Alfonso Medina, Austin Hughes, Thomas vanSinten, Gabe Holz and Jordan Click.
"All have run in a varsity race this year and were included in the GPA figures," Omak coach Melody Pecha said.
This is the second straight year and fourth time in the last five years that the boys have won the state title.
Liberty Bell produced a 3.907 grade point average, which was the best for a 2B girls soccer team.
The team includes Hannah Hafsos, Lauren Ochoa, Tulie Budiselich, Ella Hall, Tabitha Bergevin-Krumme, Estrella Corrigan, Lauren Fitzmaurice, Anna Post, Corinne Dietz, Sylvie LeDuc, McKenna Barnes, MacKenzie Woodworth, Stella Gunnip Hunter, Hannah Weymuller, Danielle Mott, Kathleen Chavey-Reynaud, Haley Post, Mia Kennedy and Cassidy Butler.
The rivalry football game between Omak and Okanogan is a possibility for Tom's Tailgate this Friday, Nov. 1 at Okanogan High School.
Tom Sherry, who does the weather at KREM in Spokane, goes to one of two games with the most votes each week. He broadcasts the weather from the game site at 5 p.m. and 6 p.m. during newscasts. He also presents the winning school a check for $222.
I know Tom likes to partake of the game's festivities, too.
He'd probably like Okanogan's tailgate party, which starts at 5 p.m. at the south gate.
They are having tri-tip roast beef with a Caesar salad, roll and drink.
"I hear it is marinated roast beef, about 60 pounds," Okanogan football coach Erik Judd said. "It sounds really good. I think I will go over and try it."
The Backyard Brawl is competing with the Priest River at Mary Walker game.
Votes can be cast at KREM's website or the KREM 2 News mobile app up to 11 p.m. Wednesday, Oct. 30. Users can vote one time, per computer per day.
Tom announces the winner on the n KREM 2 News at 11 p.m. on Wednesday.
You can catch highlights from the winning match up Friday night on KREM's HS GameTime show at 11 p.m.
A group of five women from the Colville Confederated Tribes joined other American Indians at the 11th annual PATHSTAR Alcatraz Swim Week, Oct. 6-14, in San Francisco and Bay area locales in California.
The week's events launched the second decade of the program and concluded with the frigid swim from Alcatraz Island to the San Francisco shore.
Third-time participant Shelli Martinez, Omak; second-time participant Joey Cohen, Tonasket; and swim week newcomers Theresa Bessette, Omak; Karen Elizabeth Wapato, Okanogan; and Sally Hutton, Tonasket; comprised the Colville Confederated Tribes group.
Other participants were from South Dakota, Wisconsin and California.
The swim week is a component of PATHSTAR's year-round program to encourage healthy eating and a stay active lifestyle among American Indian and Alaska Natives who have the highest rates of diabetes of any race or ethnicity in the U.S., according to the American Diabetes Association.
Omak's October Athletes of the Month are Kennedy Duck and Yurian Gaytan.
Duck is a four-year cross-country runner who has been a team captain the last two years.
"She is the hardest working girl on the team," Omak coach Melody Pecha said. "She runs when she is sick, never complains of injuries and encourages her teammates at all times. In the classroom she works equally hard."
"Yurian is the anchor of our defense and has battled through a nagging injury," Omak football coach Nick Sackman said. "He is considered by many to be one of the best linebackers in the league. He is a great leader by example and he lifts the play of our entire defense when he is on the field."
National Oceanic and Atmospheric Administration recently announce the release of an environmental assessment that will be presented during a public meeting 5:30-7:30 p.m. Tuesday, Nov. 5, at Koala Street Grill, 914 Koala Ave.
The National Oceanic and Atmospheric Administration's Fisheries Service is proposing a rule to promote recovery of upper Columbia spring-run Chinook by authorizing the release of a nonessential experimental population of the fish into the Okanogan Basin.
Colville Confederated Tribes officials will also be in attendance.
The meeting is the start of a process to evaluate the potential to reintroduce spring-run Chinook salmon into the Okanogan basin.
During the Inchelium-Columbia football game at Republic on Friday, I got caught up on some nagging questions.
First, which team's name comes first? I have seen it both ways.
Timberwolves football coach Brian Myers said whichever school has the most athletes gets the name first, which meant it was Inchelium-Columbia this year.
As for volleyball, Inchelium only had four girls turn out. Three of them are taking a ferry to Hunters to play with the Columbia Lions.
Mansfield is offering coed basketball for those in the junior high.
So far there are no takers, Athletic Director Ric Bayless said.
Washington wildlife officials recently treated and released a doe with two fawns after the deer was shot with an arrow in its neck.
The doe was shot just under the skin.
Cost of treating the deer was $1,000.
Al Camp is the sports editor for The Chronicle. Email him at sports@omakchronicle.com.