"This land is afforesting," my husband told me more than once.
And indeed, there were many places where one or two trees looked as though planted by a bird dropping a seed.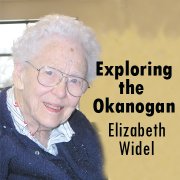 But now it's the trees in town I am thinking of, a broad mixture of kinds planted by residents who found nothing there when they moved in. Sometimes it was by developers.
On my block, for instance, the developers planted Chinese elms, which grew mightily. But they were unsatisfactory for some people, and slowly a long change began as people removed the elms (or sometimes a storm did) and gradually the look of the trees changed.
Instead of a uniform grouping of one kind of tree, a wide variety began to grow.
A favorite time for a power outage, formerly, was Saturday afternoon, when men were off at the mill and decided to do some tree barbering. Not trained in this skill, too often they dropped a limb onto a power line.
Now the Public Utility District keeps an eye on its lines and does the job professionally, and without such interruptions.
I had two huge Chinese elms in front of my house, and when I had them removed, I was shaken when I saw what had been up over people's heads. I replaced them with Moraine locusts, which were the size of my thumb when I planted them, and now are huge.
People have set out trees with various colors of foliage, various shapes and habits. Some are conifers and stay clothed all year. Others shed in the fall, leading to the fall odor of burning leaves.
A multitude of kinds lift their shapes and colors to mark the seasons. But you know that.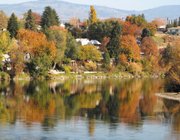 This year, I don't know why, I have seen them more than usual, and their varied kinds of beauty have been wonderful to behold.
Now we are proud of being a tree city, with our trees adding a unique and varied kind of beauty. What a richness this gives!
uuuuu
Let me add here what I should have said in my review of the last concert by the Okanogan Valley Orchestra.
In the second movement, the slow movement, of the Dvorak Symphony No. 9, there is a quiet passage which, since the composer's days, has had words set to one section of the music. It's called "Goin' Home." I learned it in high school chorus.
The orchestra, in this section achieved a rich, glowing tone and a perfect, tight ensemble. This may have been the high moment of the performance. Beautiful!
Elizabeth Widel is a columnist for
The Chronicle. This is the 2,827th column in a series. She may be reached at 509-826-1110.