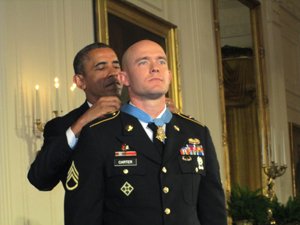 REPUBLIC — A local woman recently returned home from Washington, D.C. with a camera full of photos and a lifetime of memories as her nephew received the Medal of Honor.
Joyce Bond was in attendance at the White House on Aug. 26 as U.S. Army Staff Sgt. Ty Carter received the highest award that can be bestowed upon a member of the military.
After a ceremony and a prayer, President Barack Obama placed the medal around Carter's neck with about 40 close friends and family members in attendance.
Overall, Bond said the experience was "humbling," to see how Carter was treated.
"It was pretty emotional," she said. "It was really incredible. It was really a very proud moment."
Carter, a Spokane native who graduated from North Central High School, is the son of Bond's sister.
Carter, 33, was honored for his "conspicuous gallantry" in the Battle of Kamdesh, a day-long firefight with Taliban militants at a remote Afghan outpost near the Pakistan border.
He is only the fifth living service member from the Iraq and Afghanistan conflicts to be awarded the Medal of Honor.
Carter's selection as the was unusual in that he was the second solider from the Battle of Kamdesh to receive the Medal of Honor.
Staff Sgt. Clinton Romesha, 31, who has since left the military, was recognized for leading the charge against some 300 well-coordinated enemy combatants, heading up efforts to retake the camp, which many military officials considered indefensible.
Carter was selected for his efforts in taking out Taliban fighters to rescue a wounded brother-in-arms during the Oct. 3, 2009, clash, which left eight American soldiers dead and wounded more than 25 others, according to the Army's official account of the event.
It was the deadliest day for U.S. forces in the war effort that year.
Carter now has post-traumatic stress syndrome, Bond said.
Although the affliction formerly had a negative stigma attached to it, more information about the "unseen wound" has helped thousands of soldiers cope better with the ailment.
Bond said the ceremony at the White House has had a cathartic effect on Carter.
"He's doing really really well with it," she said.
Carter is currently stationed as a staff noncommissioned officer with the 7th Infantry Division at Joint Base Lewis-McChord.
He now spends some of his time traveling around the country speaking with people about post-traumatic stress syndrome.
Bond described Carter as "very dedicated to his military service."