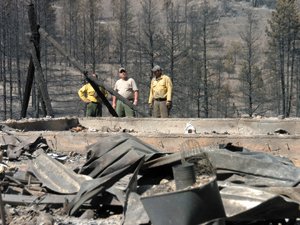 Photo by Al Camp
The last big fire in the Chiliwist was the Oden Road Fire in 2009, which destroyed two homes and burned more than 9,000 acres.
CHILIWIST — Okanogan County's first Firewise Community will be dedicated at 3 p.m. Saturday, Sept. 7, at the intersection of Chiliwist and North Star roads.
A potluck is planned, Okanogan Conservation District Education and Outreach Coordinator Kirsten Cook said.
The Firewise Communities Program, coordinated by the National Fire Protection Association, is a coordinated effort of the U.S. Forest Service, U.S. Department of the interior and the National Association of State Foresters.
Residents of the Chiliwist Valley – from Old Highway 97 and up the Chiliwist Creek drainage to the end of North Star Road – decided to work on ways to make their homes and properties more defensible in case of fire, resident Peggy Kelly said.
"We worked several years to educate the people in the community and ourselves, and finally got enough interest," she said.
Community members worked with the state departments of Natural Resources, and Fish and Wildlife, and the conservation district.
Fire District No. 3 and Okanogan County Emergency Manager Scott Miller also were helpful, she said.
"By joining, we may be able to get some things accomplished," Kelly said.
Some of the area is within Fire District No. 3, but much of it is under Department of Natural Resources protection.
Valley residents have a telephone tree to keep each other informed if there is a fire. Residents Bill and Marlene Bruton, whose place sits at the highest elevation, keep a lookout when there's a lightning storm and call other residents to investigate strikes.
The area includes about 90 structures in an area about 3.5 by 4 miles, resident Noble Kelly said.
Although there are fires in the area every year, the last big one was the 2009 Oden Road Fire, which began to the north in Pleasant Valley and burned almost to the Chiliwist and up to the Loup Loup Creek area.
The 9,607-acre blaze, started by lightning Aug. 21, 2009, destroyed two homes and 11 out-buildings, and was the largest blaze in the state that season on state-protected land.
The Chiliwist Firewise Community has an eight-person steering committee made up of the Kellys, Patty Cockfield, Ruth Hall, Al and Judy Littlefield and the Brutons.
Under the Firewise program, the group is required to have at least one event per year, whether it be a cleanup or an informational workshop.
The National Fire Protection Association said the program encourages local solutions for safety by involving homeowners in taking individual responsibility for preparing their homes to meet the risk of wildfire.
Peggy Kelly said grant funding may be available for some Firewise projects.
Firewise began after the 1985-86 fire season, when nearly 1,400 homes burned in wildfires, including 600 in Florida alone. Prior to that, many people thought wildfires that burned homes as a California-only problem.
Fire officials, government agencies and policy makers then realized the problem of home destruction from brush, grass and forest fires was one of national scope, the center said.