MEDICINE LODGE, Kan. — A Lake Roosevelt High School graduate died Thursday while working to install poles for a utility company in south-central Kansas.

Dakotah Holt, 20, was electrocuted when wind twisted a pole out of the grapple arms of a truck. Holt and another worker were holding onto the pole when it fell and hit an electric line above the area where they were working for Track Utilities Inc.
Holt was taken to an area hospital, where he later died.
The other man, Michael A. Rowan, 29, was taken to a local hospital with serious burns to his face, hands and feet.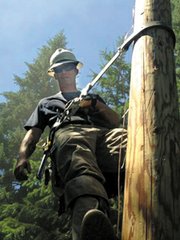 Holt was described as driven and unselfish by friends and former coaches.
Hanna Doughty, who graduated alongside Holt from Lake Roosevelt High School in 2011, said he was the kind of person "nobody disliked, and he was nice to everybody."
Doughty said he was very honest and loyal.
"If you needed help from him, he would always help," she said of the former Coulee Dam resident. "If you were having a bad day and he knew about it, he would literally do anything to make you smile."
Lake Roosevelt assistant football coach Joe Tynan said Holt was a young man with a clear vision of where he was headed and what he needed to do to get there.
"You don't always get that with the kids," Tynan said. "But you knew he was just going to dive right into life."
After graduating from Lake Roosevelt High School in the spring of 2011, he went on to attend Northwest Lineman College. Tynan said whenever Holt would return to Coulee Dam, he'd spend time in the weight room to stay in shape for work.
"He knew it wasn't going to be a piece of cake," Tynan said.
During his high school career he competed in a wide array of sports. He played football, baseball and basketball and had his share of successes in each. He was an all-league honorable mention as a senior cornerback on the Raiders football team in 2010 and in basketball, he earned a sportsmanship award during the 2010 state playoffs.
Teammate Tyler Barnhart said baseball was favorite sport. Holt once struck out 14 opposing hitters in a 4-2 victory against Pateros.
He also competed in golf, cross country and wrestling during his high school career.
"He was definitely the last guy you would think this would happen to," Barnhart said.
Tynan said Holt was one of the first Lake Roosevelt players his son, now 9, looked up to.
"He led by example, always gave a great effort and was a great competitor," Tynan said. "He was very much a team player."
Jesse Utz said he coached Holt for a few seasons in football.
"He was willing to do whatever was best for the team. He took all those lessons from sports and used them in life too," Utz said. "He was one of those guys that everyone considered a good friend. He was a role model for the younger kids and his peers."
Utz said holt will be deeply missed by community.
"Some are born to take life safe and easy, I was born to live life on a dare," Holt said on his Facebook page.