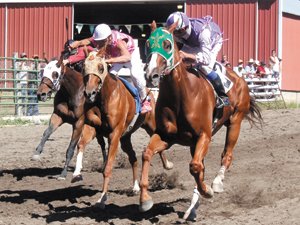 Photo by Roger Harnack
Riding Gil, Louis Zacherle, right, looks over his right shoulder at his competition coming out of Turn 4 en route to victory in a photo-finish three-quarter mile open horse race Saturday. The horse is owned by Emil Abrahamson.
REPUBLIC — Dozens of area youth and adults participated in the competitions last week at the Ferry County Fair.
Here are the individual awards announced as of press time:
Tristen Adolph – Pellet rifle, grand champion intermediate
Morgan Allen – Pole bending, reserve champion, intermediate; market hog, reserve champion; goat showmanship, grand champion intermediate; and market goat, reserve champion
Dailey Angstrom – light horse showmanship, grand champion junior; bareback equitation, reserve champion junior; trail, grand champion junior; stockseat equitation, grand champion junior; western pleasure, grand champion junior; and beef showmanship, reserve champion junior
Iris Armstrong – novice equitation, grand champion junior; international flags, reserve champion junior; swine showmanship, grand champion junior; and simple sewing, grand champion
Brittany Baker – Novice equitation, reserve champion senior
Mathew Baker – Companion animal showmanship, top companion animal showman; companion animal showmanship, grand champion intermediate; and companion animal conformation, grand champion
Natalie Bonner – Barrel racing, reserve champion intermendiate; pole bending, grand champion intermediate; Idaho Stake Race, reserve champion intermediate; and international flags, grand champion intermediate
Savannah Bowe – Light horse showmanship, grand champion senior; bareback equitation, grand champion senior; riding pattern, grand champion senior; reining pattern, grand champion senior; trail, grand champion senior; stockseat equitation, grand champion senior; western pleasure, grand champion senior; barrel racing, grand champion senior; pole bending, grand champion senior; and international flags, reserve champion senior
Leighton Braun – Tractor driving, overall grand champion; and tractor driving, grand champion junior
Kaley Byinton – Swine showmanship, reserve champion junior
Jenny Cassell – Rabbit showmanship, grand champion senior, computer-assisted demonstration, grand champion senior, performing arts-instrumental, grand champion senior; and rabbit and poultry judging, reserve champion senior
Liam Chamberlin – Sculptures and metal work, grand champion; engineering, best of show; and wood science, grand champion
Nathan Cochran – Swine showmanship, top swine showmanship; swine showmanship, reserve champion senior
Taylor Connor – Tractor driving, grand champion intermediate
Stetson Crewsdon – Breeding swine conformation, grand champion
Zara Cruden – Novice equitation, grand champion intermediate; and novice pleasure, grand champion intermediate
Serena Davis – Goat-novelty conformation, reserve champion; rabbit showmanship, reserve champion intermediate; educational poster, second-place intermediate; plant science, best of show; squash, melons, pumpkins and gourds, grand champion; and squash, melons, pumpkins and gourds, reserve champion
Terell Davis – Wood science, reserve champion; woodworking award; vegetables, reserve champion; potted plants, grand champion, aided archery, grand champion intermediate; rabbit and poultry judging, reserve champion intermediate
Kaitly Eslick – Sheep showmanship, grand champion intermediate; market lamb, reserve champion; fruits, grand champion; and vegetables, grand champion
Karlee Eslick – Overall large animal showman; sheep showmanship, top sheep showman; and sheep showmanship, grand champion senior
Jesse Fee – Cloth, yarn and string crafts, reserve champion
Clell Finley – Beef showmanship, grand champion junior; market steer, reserve champion; cat showmanship, grand champion junior
Colt Flesher – Livestock judging, reserve champion intermediate
Tandice Fletcher – Breeding sheep-mutton, grand champion; metals, glass and ceramic crafts, reserve champion; and canned meats, vegetables, etc., grand champion
Tristan Fletcher – Small engine, automotive and tractor, grand champion; small engine, automotive and tractor, reserve champion
Joshua Goodenough – Recycle, third place
Shania Graham – Swine showmanship, grand champion intermediate
Sai Green – English equitation, grand champion junior; dressage equitation, reserve champion junior; English pleasure, grand champion junior; and riding pattern, grand champion junior
Sadie Grimby – Record books, second place intermediate; dried herbs, reserve champion; fresh herbs, grand champion; hand spinning, grand champion; hand knitted, grand champion; and needlework and fancy work, grand champion
Echo Haddenham – Groom squad, reserve champion team; dog agility, reserve champion intermediate; simples sewing, reserve champion; dog judging contest, reserve champion intermediate
Nolan Haddenham – Novice pleasure, reserve champion junior; cavy showmanship, reserve champion junior; dog agility, reserve champion junior; and dog judging contest, reserve champion junior
Tyler Haddenham – Top dog showmanship; dog showmanship, grand champion intermediate; dog judging contest, grand champion intermediate
Kaylee Hall – Quilts, best of show; and small quilts, reserve champion
Kacie Harman – Light horse showmanship, reserve champion junior; bareback equitation, grand champion junior; English equitation, reserve champion junior; dressage equitation, grand champion junior; English pleasure, reserve champion junior; hunter hack over fences, grand champion junior; trail, reserve champion; stockseat equitation, reserve champion junior; western pleasure, reserve champion junior; barrel racing, reserve champion junior; and pole bending, grand champion junior
Mason Harman – Dressage equitation, reserve champion intermediate; groom squad, grand champion team
Lauren Haveaux – Carson Ranch 4-H Sportsmanship Award
Jerad Hastings – Shotgun, grand champion senior
Hannah Heizer – Paintings, grand champion; sculptures and metal work, reserve champion; record books, second place senior; presentation/demonstration, overall grand champion; and presentation/demonstration, grand champion senior
Megan Helms – Goat-novelty showmanship, grand champion intermediate; goat-novelty conformation, grand champion; cat showmanship, reserve champion intermediate; cat conformation, grand champion; photography, best of show; picture story, grand champion; picture story, reserve champion; performing arts-dance, grand champion intermediate; performing arts-instrumental, grand champion intermediate; and performing arts-singing, grand champion intermediate
Jack Hill – Rabbit conformation, reserve champion
Riley Hill – Livestock judging, reserve champion junior
Emma Hills – Light horse showmanship, grand champion intermediate; and trail, grand champion intermediate
Telah Holford – Beef showmanship, top beef showman; beef showmanship, grand champion intermediate; and market steer, grand champion
Raylena Hood – Novice equitation, reserve champion junior; novice pleasure, grand champion junior; barrel racing, grand champion junior; pole bending, reserve champion junior; Idaho Stake Race, grand champion junior; and international flags, grand champion junior
MacKenzie Hutton – Dog showmanship, reserve champion intermediate; quick breads and rolls, reserve champion; and Baked Apple Award
Drew Jackson – Goat showmanship, reserve champion junior; educational poster, first place junior; cut flowers, grand champion; recycle, first place; tractor driving, reserve champion junior; pellet pistol, reserve champion junior; pellet rifle, grand champion junior; and .22 rifle, reserve champion junior
Gavin Jackson – Collections, grand champion
Johanna Jensen – Poultry showmanship, reserve champion junior; cut flowers, reserve champion
Corwin Knowles – Poultry showmanship, grand champion junior; poultry conformation, reserve champion; instinctive archery, grand champion junior; and presentation/demonstration, grand champion junior
Jon Knowles – Andy Lawson Memorial Award
Jonathan Knowles – Pellet rifle, reserve champion senior; and shotgun, reserve champion senior
Nathalie Knowles – Poultry showmanship, top poultry showman; poultry showmanship, grand champion senior; quilted miscellaneous articles, gems or giants; .22 rifle, top .22 rifle grand champion; .22 rifle, grand champion senior; and fashion revue, reserve champion senior
Sandra Knowles – Cat showmanship, top cat showman; cat showmanship, grand champion intermediate; individual quilts, reserve champion; instinctive archery, grand champion intermediate; fashion revue, reserve champion intermediate; computer-assisted demonstration, overall grand champion; computer-assisted demonstration, grand champion intermediate; and dog judging contest, reserve champion senior
Joe Koffel – Market goat, grand champion; farm and home crops and products, best of show; farm and home products, grand champion; farm and home products, reserve champion; and presentation/demonstration, grand champion intermediate
Lacie Kane – Swine showmanship, reserve champion senior; breeding sheep-wool, grand champion; and livestock judging, reserve champion senior
Lucas Larsen – Dog showmanship, reserve champion junior; dog obedience-pre-novice, reserve champion junior; and pellet rifle, reserve champion junior
Davis Lunning – Sheep showmanship, grand champion junior
Alex Maycomber – Pellet pistol, grand champion junior; .22 rifle, grand champion junior; and .22 pistol, grand champion junior
Aaron McCullough – Overall top shot; pellet pistol, top pellet pistol grand champion; pellet piston, grand champion senior; pellet rifle, top pellet rifle grand champion; pellet rifle, grand champion senior; aided archery, top aided archery grand champion; aided archery, grand champion senior; instinctive archery, top instinctive archery grand champion; and instinctive archery, grand champion senior
Hannah McGaffey – Instinctive archery, reserve champion intermediate
Mark McGaffey – Shotgun, reserve champion intermediate
Haley McRae – Cat showmanship, grand champion senior; cat costume, grand champion; cat decorated cage, grand champion; general crafts, reserve champion; foods and nutrition, best of show; decorated cakes, candy and cookies, grand champion; pellet pistol, reserve champion senior; .22 pistol, top .22 pistol grand champion; .22 pistol, grand champion senior; table setting activity, reserve champion senior; presentation/demonstration, reserve champion senior; presentation/demonstration, reserve champion senior; performing arts-dance, grand champion senior; and rabbit and poultry judging, grand champion senior
Alannah Melton – Dressage equitation, grand champion intermediate; English pleasure, reserve champion intermediate; reining pattern, grand champion intermediate; stockseat equitation, reserve champion intermediate; and educational poster, first place intermediate
Brittany Miller – Swine showmanship, grand champion senior
Morgan Miller – Bareback equitation, grand champion intermediate; English equitation, grand champion intermediate; English pleasure, grand champion intermediate; hunter hack over fences, grand champion intermediate; stockseat equitation, grand champion intermediate; western pleasure, reserve champion intermediate; and creative arts, best of show
Donovan Peckahm – Goat showmanship, reserve champion senior
Brook Priest – Rabbit showmanship, reserve champion junior
Kristan Ricard – Paintings, reserve champion
Jacque Richards – Rabbit conformation, grand champion; and lads and lassies exhibition, first place
Katrina Richartz – Poultry showmanship, reserve champion senior; and poultry conformation, grand champion
Tristan Richmond – Rabbit and poultry judging, grand champion junior
Alexandria Rollins – Record books, first place senior; educational poster, first place senior; canned fruit, reserve champion; canned meats, vegetables, etc., reserve champion; jams, jellies, etc., reserve champion; pickled foods, grand champion; pickled foods, reserve champion; crocheting, grand champion; table setting activity, grand champion senior; and computer-assisted demonstration, reserve champion senior
Isabella Rollins – Food preservation, best of show; canned fruit, grand champion; jams, jellies, etc., grand champion; table setting activity, grand champion intermediate; and computer-assisted demonstration, reserve champion intermediate
Aleah Rydell – Overall small animal showman; rabbit showmanship, top rabbit showman; rabbit showmanship, grand champion intermediate; poultry showmanship, reserve champion intermediate; general crafts, grand champion; drawing, grand champion; decorated cakes, candy and cookies, reserve champion; granola, grand champion; Best Decorated Cake Award; Wilton Award; and livestock judging, grand champion intermediate
Stan Sandvig – Sheep showmanship, reserve champion intermediate
Kyle Schreier – Rabbit showmanship, grand champion junior
Joree Scriver – Trail, reserve champion intermediate
Abby Sheffield – Sewing and needle construction, best of show; and easy sewing II, grand champion
Andrew Sheffield – Instinctive archery, reserve champion intermediate

MacKenzie Silrus – Quilted miscellaneous articles, reserve champion
Amaya Simpson – Goat showmanship, grand champion junior; cavy showmanship, top cavy showman; and cavy showmanship, grand champion junior
Rebecca Smoak – Light horse showmanship, reserve champion senior; bareback equitation, reserve champion senior; English equitation, grand champion senior; dressage equitation, grand champion senior; English pleasure, grand champion senior; hunter hack over fences, grand champion senior; trail, reserve champion senior; western pleasure, reserve champion senior; and groom squad, grand champion team
Jeffrey Spooner – Shotgun, grand champion junior
Sabrina Spooner – Groom squad, reserve champion team; and cavy showmanship, reserve champion intermediate
Truman Spooner – Novice pleasure, reserve champion intermediate; international flags, reserve champion intermediate; groom squad, reserve champion team; cavy showmanship, grand champion intermediate; pellet pistol, grand champion intermediate; .22 rifle, grand champion intermediate; shotgun, top shotgun grand champion; and shotgun, grand champion intermediate
Makala Spradlin – Barrel racing, grand champion intermediate; Idaho Stake Race, grand champion intermediate; beef showmanship, reserve champion intermediate; and swine showmanship, reserve champion intermediate
Courtney Starr – Sheep showmanship, reserve champion junior; record books, second place junior; educational poster, second place junior; small quilts, gems or giants; and rabbit and poultry judging, reserve champion junior
Jordan Starr – Candy, grand champion
Garrett Stoddard – Tractor driving, reserve champion intermediate; and .22 pistol, grand champion intermediate
Sierra Studer – Dairy cattle showmanship, top dairy showman; dairy cattle showmanship, grand champion senior; dairy cattle conformation, grand champion; goat showmanship, top goat showman; goat showmanship, grand champion senior; breeding goat-meat, reserve champion; and breeding goat-dairy, grand champion
Khaleah Thomas – Poultry showmanship, grand champion intermediate; and recycle, second place
Robert Thomas – Instinctive archery, reserve champion junior
Chloe VanSlyke – Farm and home crops, grand champion; Washington State Wheat Growers Award, second place; and fresh herbs, reserve champion
Emma VanSlyke – Floral arrangements, grand champion; and crocheting, reserve champion
Justilynn Van Wyk – Breeding sheep-wool, reserve champion; dog showmanship, grand champion senior; educational poster, second place; dog agility, grand champion senior; cookies and doughnuts, grand champion; cookies and doughnuts, reserve champion; pies, grand champion; pies, reserve champion; quick breaks and rolls, grand champion; machine backed goods, grand champion; Washington State Wheat Growers Award, first place; Red Star Yeast Award; digital photography; grand champion; floral arrangements, reserve champion; performing arts-instrumental, reserve champion senior; dog judging contest, grand champion senior; and livestock judging, grand champion senior
Trenton Wellman – Companion animal showmanship, grand champion senior; companion animal decorated cage, grand champion; and potted plants, reserve champion
Bradley Wilder – Dried fruits, vegetables, leathers and jerky, reserve champion; digital photography, reserve champion
Josh Wilder – Dried fruits, vegetables, leathers and jerky, grand champion
Keelee Wilder – Native American, reserve champion
Nicole Willett – Stockseat equitation, reserve champion senior; barrel racing, reserve champion senior; Idaho Stake Race, grand champion senior; international flags, grand champion senior; and groom squad, grand champion team
Aydia Wyckoff – Light horse showmanship, reserve champion intermediate; bareback equitation, reserve champion intermediate; hunter hack over fences, reserve champion intermediate; goat showmanship, reserve champion intermediate; goat-novelty showmanship, reserve champion intermediate; paintings (other surfaces) grand champion; record books, first place intermediate; fruits, reserve champion; vegetables, gems or giants; individual quilts, gems or giants; easy sewing II, reserve champion; and rabbit and poultry judging, grand champion intermediate
Sawyer Wyckoff – Dog showmanship, grand champion junior; dog agility, grand champion junior; dog decorated bench, grand champion; dog obedience-pre-novice, grand champion junior; paintings (other surfaces), reserve champion; collections, reserve champion; record books, first place junior; record books, overall champion; dried herbs, grand champion; needlework and fancy work, reserve champion; dog judging contest, grand champion junior; and livestock judging, grand champion junior
Journey Young – Market hog, grand champion; and drawing, reserve champion