It's official.
Royal and defending champion Montesano are favored to meet in the Tacoma Dome for the 1A football championship.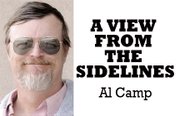 That's what the A & B Football report released this week said.
The report goes into some specifics on what players the teams have returning.
No. 14 Cascade goes to No. 1 Royal this Friday, Sept. 6, as the fall high school football season starts. The Knights won last year, 52-14.
Other area teams playing Friday include Tonasket at Bridgeport, Okanogan at Warden, Oroville at Brewster, Omak at Lynden Christian, Darrington at Liberty Bell, Davenport at Lake Roosevelt, Curlew at Pateros, Soap Lake at Republic and Columbia-Inchelium at Almira/Coulee-Hartline.
No. 3 Cashmere is at Cascade Christian, which the Bulldogs beat 39-0 last year.
The Chronicle had a story Sunday, Sept. 1, on area football teams.
1A rankings
1, Royal
2, Montesano
3, Cashmere
4, Mount Baker
5, King's
6, Connell
7, Zillah
8, Charles Wright
9, Meridian
10, Freeman
11, Okanogan
12, Woodland
13, La Center
14, Cascade
15, Hoquiam
In B11, the report favors Lind-Ritzville-Sprague to repeat as champions.
Area teams are vacant in the Top 15 B11 preseason rankings.
B11 rankings
1, Lind-Ritzville
2, Morton-White Pass
3, Waitsburg-Prescott
4, Colfax
5, Reardan
6, LaConner
7, Adna
8, Tri-Cities Prep
9, Napavine
10, Raymond
11, DeSales
12, Mossyrock
13, Willapa Valley
14, Wahkiakum
15, Concrete
The B8 Top 15 includes No. 9 Almira/Coulee-Hartline, No. 12 Columbia-Inchelium No. 12 and No. 14 Pateros.
B8 rankings
1, Neah Bay
2, Touchet
3, Cusick
4, Lummi
5, Liberty Christian
6, Wilbur-Creston
7, Colton
8, Garfield-Palouse
9, A.C.H.
10, Wellpinit
11, Odessa-Harrington
12, Columbia-Inchelium
13, Selkirk
14, Pateros
15, Wishkah Valley
On Saturday, Sept. 7, the volleyball season gets under way with a jamboree at 10 a.m. in Okanogan.
Matches start Tuesday, Sept. 10.
Cross country opens this Saturday, Sept. 7, with the Tonasket Invitational.
Phil English, as he's done for three decades, released over the weekend the preseason cross country rankings for the Washington State Cross Country Coaches Association.
Area teams ranked include Republic/Curlew boys at No. 6 and Liberty Bell at No. 10 in 2B, and Cashmere boys at No. 9 in 1A.
Class 1A, boys
1, Lakeside (Nine Mile Falls)
2, King's
3, Medical Lake
4, Charles Wright Academy
5, La Center
6, Meridian
7, Lynden Christian
8, Royal
9, Cashmere
10, Blaine
Others: Toledo.
lass 1A, girls
1, Riverside
2, King's
3, Northwest
4, Lynden Christian
5, Lakeside
6, Meridian
7, Medical Lake
8, La Center
9, South Whidbey
10, Cedar Park Christian
Others: Kalama
Class 1B/2B, boys
1, Tri-Cities Prep
2, Asotin
3, Northwest Christian-Colbert
4, Northwest Christian-Lacey
5, Onalaska
6, Republic
7, Waitsburg-Prescott
8, St. George's
9, Mossyrock
10, Liberty Bell
Others: Crosspoint Academy
Class 2B/1B, girls
1, St. John-Endicott
2, Northwest Christian-Lacey
3, Morton-White Pass
4, Ocosta
5, Northwest Christian-Colbert
Others: Asotin.
"Fishing has still been pretty good even though it is pretty warm," Gene Bussell of Liar's Cove Resort said of fishing the Conconully lakes last week.
Kelly Pritchard of Olympia caught an 18-inch rainbow using a three-foot kiddie pole last week.
Pritchard used orange Power Eggs with a worm.
"She was fishing over by the dam on the lower Conconully Reservoir," Gene Bussell of Liar's Cove Resort said. "This year has been the best fishing and the largest fish we have seen in the last five years. Most everybody is still fishing over by the dam.
"We have two young ladies, Monica and her mother Leanne Delosh, who fish almost every day and catch their limit of rainbows. Monica has caught three rainbows 18 inches or over three days in a row."