Washington state Department of Fish and Wildlife officials' ears must be burning.
Many area residents are talking about catching them in the act of trying to change wolf-kill rules in violation of an agreement made to pass a law giving the agency more money through license plate sales.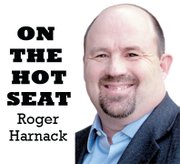 That topic is sure to be among what several Fish and Wildlife employees will be hearing about during the 12th annual Brewster roundtable discussion in the Columbia Cove building, 508 W. Cliff Ave. The meeting is set for 5:30-7:30 p.m. Thursday, Sept. 26.
I suspect it'll be a fiery session, as the agency has been disingenuous when it comes to land acquisitions and wolves in North-Central Washington.
Agency Director Phil Anderson is supposed to be present, as is Deputy Director Joe Stohr and others. That was supposed to be the case last year, but Anderson ducked the session and sent Stohr and a dozen subordinates in his stead.
Anderson says this year's roundtable will be a great opportunity to discuss the agency's practices here in the Okanogan. But time and time again, both he and Stohr have shown a reluctance to actually hear what is on the minds of area residents.
With their track record, I don't expect anything to be different this time around. Nonetheless, I plan to attend the meeting, and I'm sure many of you will, too.
Attendance is very important for rural residents.
Fish and Wildlife continues to acquire land here despite Stohr's promise at last year's roundtable to halt the practice. The agency's continued land acquisitions are drying up jobs, tax revenues and even our water rights.
As Okanogan County Commissioner Jim DeTro puts it, the agency is endangering our culture, economy and way of life.
Fish and Wildlife also continues to pay lip service to the wolf issue, while pushing an extremist environmental agenda that doesn't jive with rural living.
The most recent battle in the wolf issue has Okanogan County Farm Bureau and Okanogan County Cattlemen members up in arms again.
Anderson is attempting to write a new provision into the Washington Administrative Code — essentially laws written by bureaucrats, but never approved by the Legislature or voters. His move would set the bar too high for ranchers and other rural residents to kill wolves attacking their livestock. Needless to say, that doesn't sit well here.
We knew Anderson would try to push his extremist agenda despite the agreements his agency reached with ranching groups and Sen. John Smith during this year's legislative session.
Those agreements were just more smoke and mirrors offered by the agency in its derailing of Smith's Senate Bill 5187, which would have allowed rural residents to kill wolves endangering livestock.
The next step in rectifying the situation is to attend the roundtable and let Anderson know his disingenuous efforts are certainly not appreciated, nor wanted here.
See you at the meeting.
Roger Harnack is the editor and publisher of The Chronicle. He can be reached at 509-826-1110 or via e-mail at rharnack@omakchronicle.com.