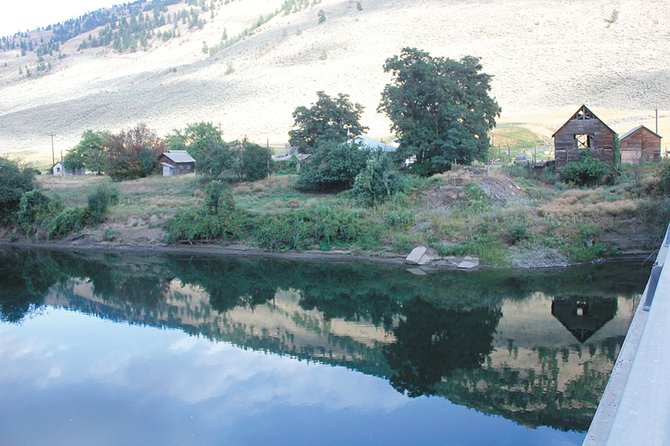 Photo by Roger Harnack
NIGHTHAWK — The state Department of Ecology and the Okanogan County Department of Emergency Management tested water samples from the Similkameen River last week to determine if a coal spill in Canada will have any impact on local waters.
Results from the study were expected to be released Tuesday, Ecology spokeswoman Brook Beeler said.
"We don't believe there's going to be any major impact," she said.
"If something came back and it was glaring," an announcement would have been made sooner, she said.
Beeler said 6,000 gallons of water containing coal dust from the Coalmont Energy mine near Princeton, B.C. spilled over the banks of a containment pond and into the Tulameen River on Aug. 24, temporarily turning the river black.
The spill occurred about 80 miles north of Nighthawk.
The Tulameen River flows into the Similkameen.
Ecology researchers finished taking samples as a precautionary measure on Friday, Beeler said.
Beeler said the state Department of Ecology is only handling the spill on the U.S. side of the border, while Canadian authorities are handling the northern side.
The Ministry of Environment is monitoring the response and cleanup, while the Interior Health Authority is making sure there are no health concerns, Beeler said.
Although the Tulameen River initially turned black from the spill, indications were that the coal slurry seemed to be settling into the river bed not far from the source of the spill, Beeler said.
Beeler said the investigators from the state Department of Ecology never saw any evidence of coal in the water of the Similkameen River near Nighthawk.
"They did not see any visual impacts," she said.