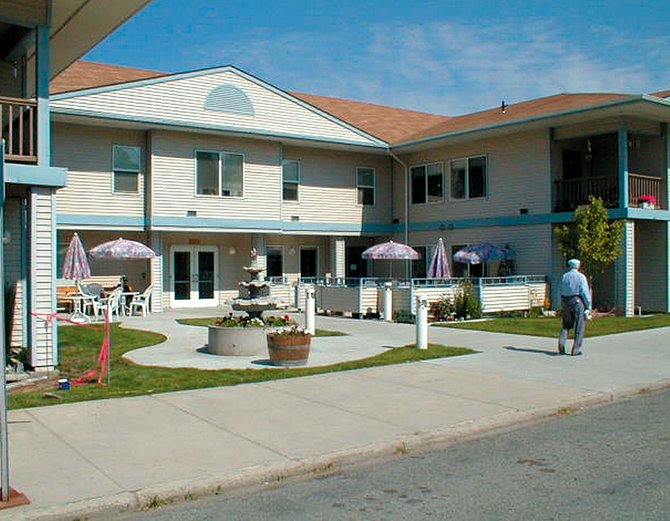 North Valley Hospital
Major changes are coming to North Valley Hospital, where the former assisted living facility will be turned into an updated rehabilitation department.
TONASKET — North Valley Hospital has some major plans ahead for the Verbeck Building, which previously housed the assisted living facility.
With the assisted living facility's history of losing money, North Valley Hospital officials made sure any changes were done with the "community's needs, facility's needs and financial impact" in mind, Business Development Coordinator Terri Orford said.
"We feel very strongly that we've made those decisions cautiously," she said.
One of the significant changes that will benefit the facility at 203 Western Ave. is relocating the rehabilitation department, she said. The location change in itself will help patients recovering from injuries, she said. The current location of the rehab department is "not very accessible," she said.
The updated location will have street access, parking in front of the building, automatic doors and it will be on the main level.
Rooms that had previously served as residents' quarters will now be turned into private treatment rooms. There will be separate rooms for massage therapy, occupational therapy, speech therapy and physical therapy.
"Right now the rehab room is one big room," Orford said. "You are in a room with everybody. There is no privacy."
The former kitchen will be adapted into an occupational therapy "faux kitchen," Orford said.
"That's going to be in addition to our rehab program," she added.
That occupational therapy room will feature household appliances like a refrigerator, stove and sink for people who have been recovering from an injury to simulate returning to their own homes and performing day-to-day activities, such as cooking a meal, washing dishes, opening cupboards and using the sink.

Therapists will be able to "make sure (patients) can perform the necessary mechanical functions and give them the right tools" to return to their own homes, Orford said.
She said in this area, occupational therapy of this nature is not common practice.
She said North Valley Hospital is the "flagship" in that regard for North-Central Washington.
Other changes include shuffling the locations of several other departments. The human resources department will move upstairs, having previously been in the basement. That move will allow for greater privacy during drug screenings for prospective employees.
Some of the business office staff will also move to the second floor, rather than being in the "maze" of the basement, Orford said. There will also be meeting spaces set up, computer training rooms and physician apartments.
Orford said there is no timeframe established as to when the changes will be completed at North Valley Hospital. She expects as a "worst-case scenario" the changes could be completed within a year.
She also said there is no cost estimate, but expects the financial investment required to be minimal. Much of the cost, she said, is dependent on what the state determines as the hospital applies for a change of use with the Department of Health.
She said with the rehabilitation being a revenue-generating department, these changes will be "financially positive" for the hospital.
She said officials will need to make sure the building will be up to code, since it was built in the 1990s, but the hospital is "diligent about not spending money and using supplies we have on hand."
The assisted-living facility was a source of controversy early this year, when hospital district commissioners announced plans for its closure Jan. 10.
After protests and the threats of a lawsuit, the facility closed its doors March 31.
The assisted-living facility was built in 1998, and it had been losing money for the past seven years, generating approximately $800,000 in red ink during that timeframe.
Most recently, it lost $56,640 in 2011 and $197,702 in 2012.
At full capacity, the facility could house 32 residents. It averaged 26 residents in 2011 and 23 in 2012. It had 28 residents when the decision was made in January to close North Valley Assisted Living.
The assisted-living facility was built in 1998 and about $1.59 million of a $2.5 million bond remains on the building, according to Orford. The balance on the assisted living bond was $1,589,194 as of June 1 with payments being made twice a year.