Jeremy Draggoo went looking for a trophy deer and instead brought home a big bear.
He would tramp solo around the mountains in the Pasayten Wilderness in search of the perfect buck earlier his month during the high hunt.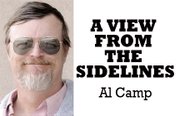 "I saw one I was looking for, but it was a day before the season," Jeremy said. "I had to let it walk. It was a big 4x4 with cheaters on one side. He was a nice buck."
Jeremy, 33, of Omak is the middle of three boys, each of which enjoys the outdoors and hunting.
"Out of all of Richard Draggoo's sons, Jeremy has embodied the spirit of the wild game hunt like none other," said oldest brother Clayton, 34, of Omak. "From catching a simple trout to chasing a personal record deer, he has always embodied a spirit of patience and endurance."
"We hunted a lot for deer growing up," youngest brother, Braden, 31, of Wenatchee said. "We all grew up hunting with my dad from a young age."
The boys learned to hunt from their father, Richard Draggoo, and grandfather, William Clayton Draggoo.
An electrician at Chief Joseph Dam near Bridgeport, Jeremy would require lots of patience and endurance to bag his bear. He would persevere through a deluge of cold rain (it snowed on a nearby mountain), wind and lightning.
"Sunday night a huge storm came through with thunder and lightning for four or five hours," Draggoo said. "It was pretty crazy."
"He was out there by himself for a week and a half," Braden said. "So he was staying out in the wilderness during a big storm and had trees falling left and right. There was hail, and it was raining and high winds. He was in a burned area so there was lots of old burnt trees."
"I did not find the deer I wanted," Jeremy said. "I passed up some smaller ones. Then I spotted a pretty nice black bear" on the last day of his hunt, Sept. 17, he said. "I think he's probably 250 pounds at least, maybe. Maybe 300. I am not very good at judging them."
"Jeremy told me either the bear eats you sometimes or you eat the bear," Braden said. "So he shot this 275-pound black bear."
Jeremy laid down next to the bear to get an idea of its size.
"He was almost as tall as me, not quite six feet," said Jeremy, who is 6-2. "He was a pretty decent bear. He's not the biggest bear in the world, I know that, but he's got a really good hide on him."
Next came the hike out in a pouring downfall.
"Did he tell you about the major storm out in the wilderness he stayed out in and hiked out with 100 pounds for 13 miles?" Braden said in an email. "Crazy Jeremy, haha."
"That was a heavy pack," said Jeremy, who lost 10 pounds during the trip. The pack included what he took to the wilderness, the bear hide and meat.
"Anybody that was up there pretty much got wet," Jeremy said. "Pretty much everything got soaked in the backpack."
The extra weight made going down steep hills extra-treacherous. One slip and the deer turned bear hunter would have slid and rolled many hundreds of yards.
"I was a little sore for a day or two afterwards," he said.
"He told me it was an amazing workout," Braden said.
Although he's not sure what he might do with the bearskin – he has to see how much it will cost to preserve it – he knows the meat will be used.
"I definitely eat what I shoot," he said.
Jeremy may head out for the general deer season starting Oct. 12.
But if he doesn't, he has been drawn for the special late whitetail tag season Nov. 1-20 in the Pogue Unit between Omak and Okanogan.
Al Camp is the sports editor at
The Chronicle. Email him at sports@omakchronicle.com.