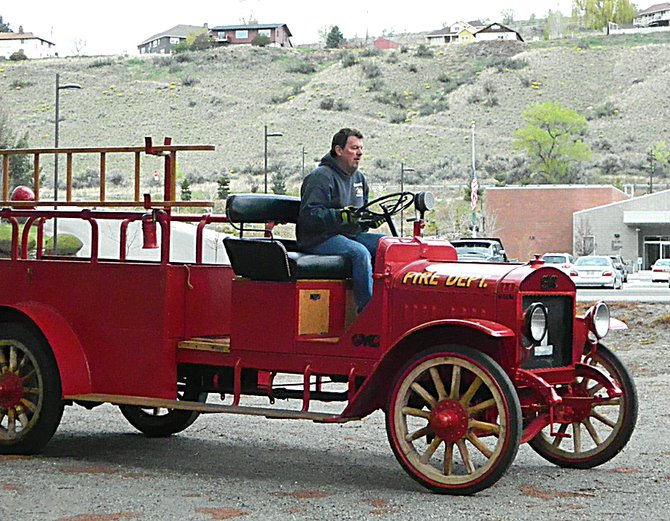 Photo by Dee Camp
Omak Assistant Fire Chief Dan Wood prepares to drive the department's engine No. 1 from the Okanogan Fire Hall Museum to Omak on Thursday morning for the department's Saturday centennial celebration. An open house will run from noon to 4 p.m. Saturday at the Omak Fire Hall, 16 N. Ash St.
OMAK — The Omak Fire Department's engine No. 1 hit the road Thursday morning for a drive from the Okanogan Fire Hall Museum to Omak for the department's centennial celebration on Saturday.
Assistant Chief Dan Wood drove the 1918 GMC truck, purchased by the city in 1925 as the department's first motorized truck. It remained in service for many years, and now has been restored and is on display in the museum, adjacent to the Okanogan County Historical Society Museum at 1410 N. Second Ave.
Omak purchased the truck from Newport.
The centennial celebration includes an open house from noon to 4 p.m. Saturday at the fire hall, 16 N. Ash St. Visitors will be able to meet firefighters and see equipment, Chief Kevin Bowling said.
In the community's earliest days, dealing with structure fires was largely a reactive response, with neighbors and passers-by responding with buckets and shovels, according to an account in the Fall 2011 issue of the Okanogan County Historical Society's Heritage. Bucket brigades, pulling water from the Okanogan River, were employed.
In 1910, a year before the city incorporated, Chronicle Publisher C.P. Scates called for a fire protection organization and the need for a water system.
That same year, the Omak Commercial Club decided to buy a bell to alert the community to nighttime fires.
Two years later, in May 1912, a huge downtown fire spurred a new round of efforts. Residents met and recommended the formation of a volunteer fire department and that the City Council buy hose and hydrants.
On April 20, 1914, The Chronicle reported work had started on a fire station. Equipment consisted of a hose cart, 700 feet of line and a set of ladders. That building sat close to the river, behind what later became Zitting's store and, still later, McNeil Floor Covering on East Apple Avenue.
The department was organized that May, with A.M. McCaskill as president, F.H. Kern as vice president and William Featherly as assistant chief. The rolls included 26 members.
Engine No. 1 appears each year in the Omak Stampede parade.