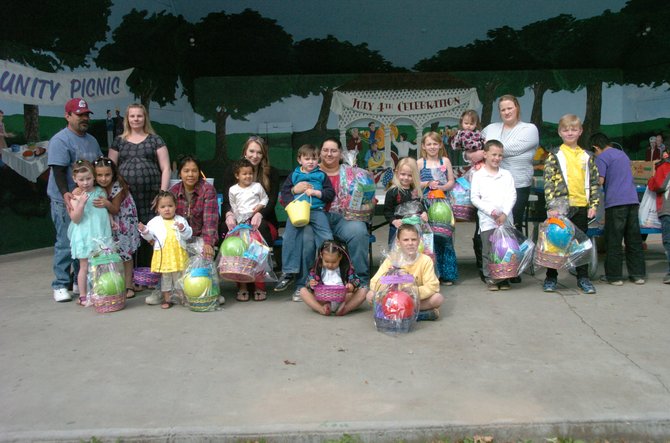 Photo by Al Camp
Omak's Easter egg hunt winners pose for a photo with their prize baskets Saturday in in Civic League Park.
OMAK — Easter egg hunters in Omak's Civic League Park cleaned up in record time Saturday morning.
The hunt was one of several around the area.
The estimated 500 hunters in the eighth annual Omak Masons and Omak-Okanogan Civic League hunt gobbled up 6,000 eggs in 75 seconds, besting last year's 90-second time.
Put it down to being a cool morning with 50-degree temperatures.
There also was an act of kindness after all was done.
John Bucsko gave his third-place prize in the second-grade division to an appreciative Mary McDonald, who was knocked down during the hunt.
"I crashed and burned," she said. "I never knew him."
Results
Toddler (age 2 and under) - 1, Kameron McKinney. 2, Talaya Randall. 3, Mackenzie Ramirez.
Preschool (ages 3-4) - 1, Jadedon Davis. 2, Lydia Cabonias. 3, Patrick Kloth.
Kindergarten to first-grades - 1, Jack MacDonald. 2, Bryson Buchanan 3, Sulaylza Sanchez.
Second-grade - 1, Chloe McNichols. 2, Meshayla Garinier. 3, John Bucsko.
Winners in the Pateros Trading Co. egg hunt the same morning in Pateros (complete names were not provided by organizers):
Age 5 and younger – Joceline, age 5, from Brewster.
Ages 6-9 – Ishmael, age 7, from Pateros.
Ages 10-12 – Angie, age 10, from Pateros.
Winners got baskets, and all participants received candy and other goodies.
In Tonasket, more than 70 children turned out for the American Legion Auxiliary hunt Saturday morning.
"Prizes were given to all the children, including the grand prize of a basket filled with art supplies. Ieven Johnson won that prize.