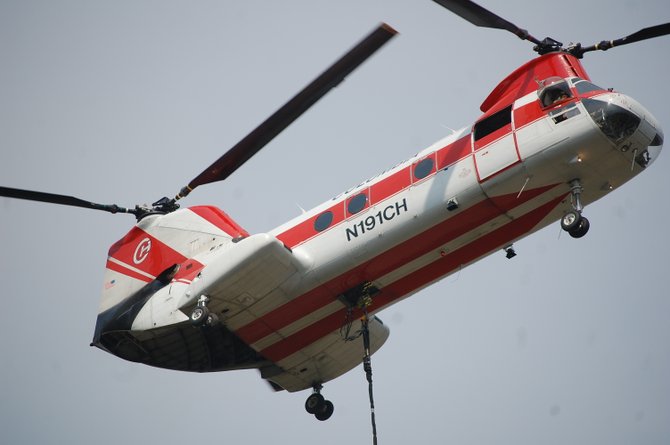 Photo by Roger Harnack
One of the many aircraft called to the area just south of Winthrop today to help fight a new wildfire.
WINTHROP — The state has mobilized fire resources in support of local firefighters battling the Rising Eagle Road Fire.
The fire broke out about 2:30 p.m. Friday south of town off state Highway 20. At least one home has burned and about 50 homes are threatened.
Level 2 and Level 3 (highest) evacuations are in place in the Twin Lakes, Sun Mountain, upper Bear Creek and Pearrygin Lake areas.
As of Friday evening, about 200 acres had burned, the state Washington State Patrol said.
The fire's cause is unknown.
Shortly before 4 p.m., several fire districts from the Okanogan Valley were called to aid in structure protection.
The American Red Cross has opened evacuation centers at the Methow Valley Community Center, 201 Methow Valley Highway, Twisp, and Mazama Community Church, 18202 state Highway 20, Mazama.
State Highway 20 is closed from milepost 196 to milepost 202 at the Old Twisp Highway.
The state Department of Natural Resources and Fire District No. 6 are doing initial attack, and are coordinating air and ground resources with the Rocky Mountain Incident Management Team, which is in charge of the Carlton Complex fires.
The new fire is moving northwest around Liberty Bell High School, where the Carlton Complex incident command post is located. The fire camp has been secured; fire suppression efforts on the complex continue, the command said.
"We are experiencing 20 mph winds with thunderstorms moving through the area," the command said.