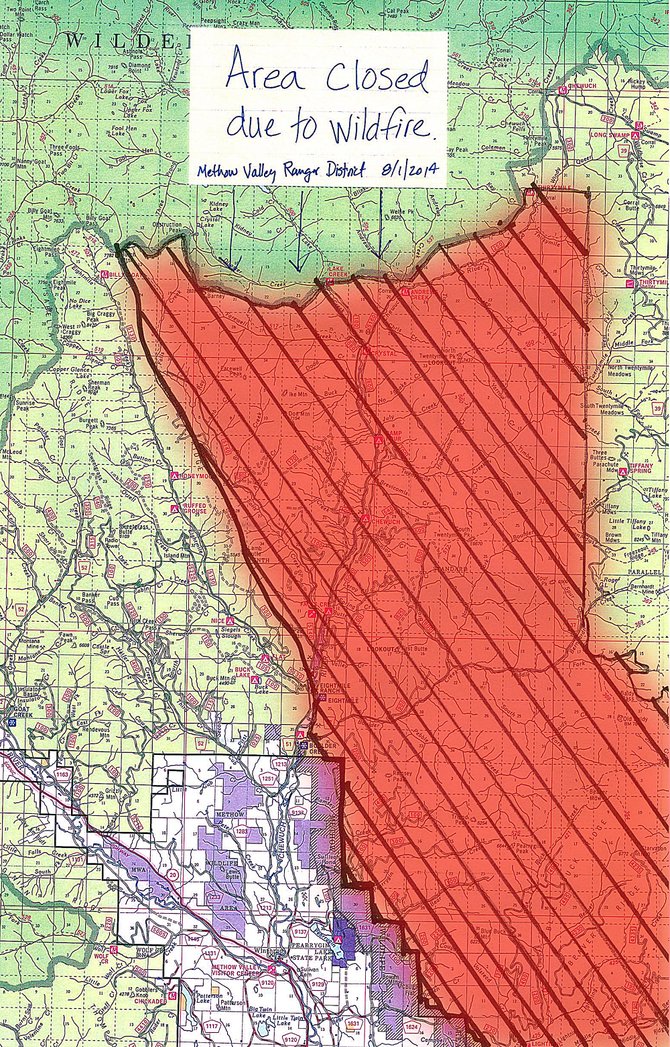 WINTHROP — The forest is closed.
Okanogan-Wenatchee National Forest Supervisor Michael L. Balboni ordered the closure Friday of public lands in the Methow Valley Ranger District due to fire activity and the potential for more fires.
Under the order, "all methods of travel on all roads and trails along the boundary and within the area" are closed for public use.
The order prohibits area residents and visitors alike from recreating on the public lands managed by the U.S. Forest Service. Balboni's order cites "multiple fires" and a "threat to public safety" as reasons for the closure.
The closure includes, but is not limited to:
Multiple trails, including War Creek, South Fork War Creek, Williams Creek, East Fork Buttermilk and Libby Lake.
The area south of Twisp River and west of the Methow River to the Chelan County line.
The Loup Loup Pass summit area along Forest Road #3700
National forestland near East Chewuch Road and along state Highway 20.
Five trails in the Lone Mountain Fire area north of Stehekin.
Sheriff Frank Rogers confirmed the closures Saturday morning.
"If you don't need to be there, don't be," he said, reminding residents and visitors alike that Pearrygin Lake State Park is also closed, at least for the weekend.
The forest closure is expected to be re-evaluated late Sunday, he said.
Residents or visitors found on closed public land face a penalty of up to $5,000 and six months in jail, Balboni said. Organizations could face a $10,000 penalty.