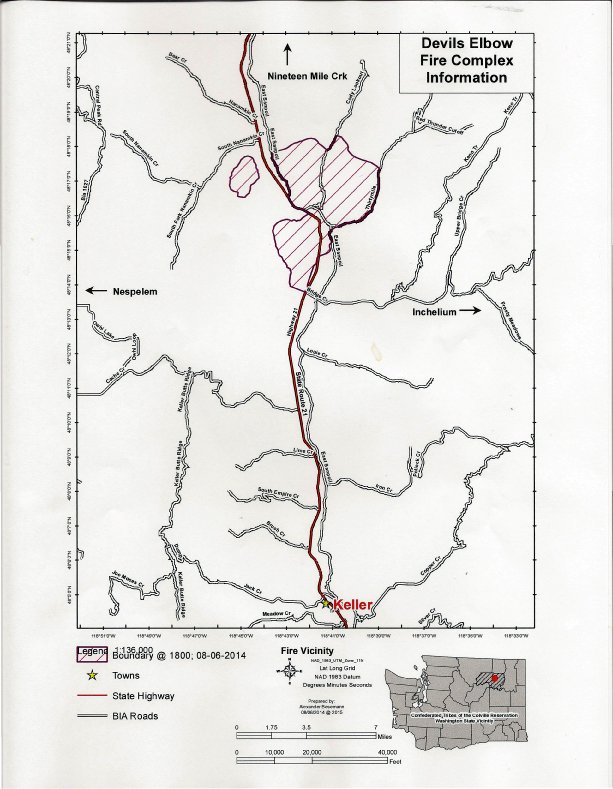 KELLER — The Devil's Elbow Complex fire has burned across 8,000 acres near town and prompted evacuations.
The fires continue to burn actively day and night, consuming trees, grass, brush and heavy slash remaining from a 2012 windstorm, the Mount Tolman Fire Center said.
On Wednesday, the Deadhorse Fire, at 164 acres, and Central Peak Fire, 160, fires burned together. The Cub Creek Fire, 165 acres, is about a mile northwest of them.
The fires are burning along and above both sides of state Highway 21 about 10 miles north of the town of Keller. Firefighters are working establish southern anchor points and hold flanks of the fires to contain their spread and protect resources such as homes and natural resources.
A structure protection group is in place to protect homes along the state Highway 21 corridor.
Firefighters are taking advantage of relatively cooler weather today (mid-80s) to construct and improve containment lines. There are strong plans for containment efforts on the north and south fronts.
Keeping the fires north of Bridge Creek Road and McAllister Creek, south of the 25 Mile Road, and mostly west of the Thirty Mile Road, are priority efforts. Containment lines take advantage of existing road systems, improved by bulldozers and hand crews where needed.
A 400-acre spot fire is south of the Thirty Mile Road system. Tying it into the containment network if possible is a high priority for today. Firefighters also are working to manage evacuations and necessary emergency road closures.
State Highway 21 is closed from the Bridge Creek Road to the gravel pit just north of North Nanamkin Creek Road. The San Poil River Road is closed north of Bridge Creek Road. Also closed is the Central Peak area, defined by Cache Creek Road, Central Peak Road, South Nanamkin Road and state Highway 21.
Level 3 (highest) evacuation notifications are in place for state Highway 21 from Capoose Creek/Meadow to the South Nanamkin Road.
Level 2 notices are in place for state Highway 21 between the South Nanamkin Road and the gravel pit; the Bridge Creek Road from the highway to the Keno Mine Campground; the highway from Capoose Creek to Cache Creek Road.
Level 1 evacuation notification exists along the highway north from the gravel pit near the North Nanamkin Road to the Bear Creek Campground.
The Cache Creek Road, Bridge Creek Road and state Highway 21 between Cache Creek Road and Bridge Creek Road are open, although road closures can come at any time to protect public safety, fire officials said.
A shelter for those displaced by the fires is at the Keller Community Center, 11669 state Highway 21.