In the days since the height of the wildfires, we've had a few requests from readers to publish thank yous to friends, neighbors, volunteers, firefighters, etc.
Meanwhile on our news pages, we've strived to publish a number of stories about the people who stepped up to save lives and property.
We've written about Okanogan County Sheriff's Office deputies evacuating neighborhoods. We've written about the Army National Guard's efforts. We've written about Gebbers Farms' Brewster-saving efforts. And we've written about Team Rubicon's work in Pateros. In short, we covered stories on utility workers, donation collection sites, volunteers and countless others.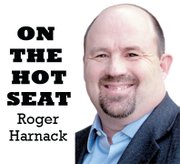 That said, there are many, many more residents and disaster volunteers who deserve our thanks for helping out. There are probably more agencies and volunteers to list than we have room for in our print editions.
As most readers know, we don't publish "thank you" letters on our print opinion page. In fact, we haven't printed thank you letters for about six years.
That's something a few fire victims are having a hard time understanding.
The purpose of a newspaper opinion page is to promote the free flow of ideas, usually on issues that have political undertones. The purpose is to allow readers to voice their opinions on both sides of an issue, such as marijuana sales, municipal budgets, land-use decisions... you get the idea. An opinion page wasn't designed to allow for personal thank yous.
Since eliminating thank you letters from our opinion page, we've seen a much more lively discussion of a variety of issues, from elections to environmental topics to social issues. We've seen debates on the Pateros-to-Twisp power line proposal, Enloe Dam and even mosquito spraying play out. We've seen an uptick in the volume of letters we received, as readers feel more comfortable voicing their opinions publicly on the issues shaping our community.
We've also seen an increase in the number of guest columns. We've carried columns from several state agencies, including the Department of Natural Resources, and Department of Fish and Wildlife. We've had columns from governmental and community leaders alike. And today, we have a column from the Ferry County Tea Party Patriots.
The flow of ideas and opinions are very important to keeping our society free. But that's not often easy for those with "thank you" letters to see, especially in the wake of the devastating wildfires.
We want to keep those ideas flowing.
If you have an issue-oriented letter, please email it to news@omakchronicle.com or drop it by our office at 618 Okoma Drive in Omak.
But for those wanting to publish a personal thank you, we offer opportunities through our advertising department. Give Advertising Manager Teresa Myers or Classified Manager Julie Bock a call at 509-826-1110.
Roger Harnack is the editor and publisher of The Chronicle. He can be reached at 509-826-1110 or via email at rharnack@omakchronicle.com.