OKANOGAN — A local man was arrested Friday morning after allegedly dealing drugs out of a tent in Legion Park.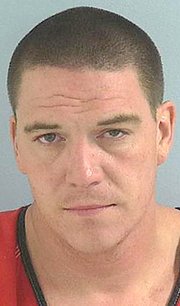 David G. Ferrell, 32, was arrested on suspicion of possession of controlled substance with intent to deliver-heroin, possession of controlled substance with intent to deliver-methamphetamine and possession of drug paraphernalia.
Okanogan County Sheriff's Office deputies, who patrol the park as part of a contract with the city for law enforcement, encountered four people in a tent in the park at 1 a.m., Sheriff Frank Rogers said.
As deputies approached the tent, which had a light on inside, they could see four people inside and one appeared to be injecting something in his arm, Rogers said. Another was smoking something, apparently not tobacco, and they allegedly were discussing the prices and weights for drugs.
Deputies contacted the four and later obtained a search warrant for the tent. They found suspected heroin and methamphetamine, paraphernalia and needles, Rogers said.
A semi-automatic weapon, ammunition, $2,380 in cash, several baggies of suspected heroin packaged for sale and five syringes that had suspected heroin or methamphetamine in them were also found in the tent.
All the items will be sent to the lab for testing, Rogers said.