OSOYOOS, B.C. — With all the cowboy and country persona emphasized here, it sometimes feels like I'm the only one in the area who listens to hard-rock music.
Chronicle reporter Brock Hires of Tonasket drives that point home at the office. Most of you probably know him as a local country western singer and guitar player. Last week, I learned he has recorded his own Christmas CD, as well as others in the country music and acoustical genres.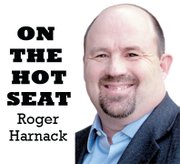 And there's Lonnie and Theresa Good of Okanogan, who have their own music as well as offering recording services. They also brought a lot of local acoustical and vocal talent to the stage of a coffee shop in Okanogan.
Then there's Doug Camp, who grew up in Okanogan. A Thorp School District music teacher by day and a heavy metal rock'n'roller by night, he's kind of unusual around these parts, with his hard-hitting tunes, not just raising the tempo, but accelerating it.
While you may find Doug playing on the sidelines of an Okanogan High School football game, he takes his high-octane tunes on the road to Seattle and other locations with a larger population of hard music aficionados.
But there may be a market for the rock'n'roll scene here, too.
Last week, I met another musician who grew up in North-Central Washington — 40-year-old Jeff Knemeyer. He was selling autographed "World Gone Wrong" debut CDs for his Hollywood, Calif.-based band, Black Valentine. He was also shopping around for a venue to bring his music back home.
We got to talking about his youth in the Wenatchee area, his music career, his life in the rock'n'roll scene and Hollywood. While I had never met him before, our talk took me back to my younger days in the rock'n'roll scene in Florida, where I had the opportunity to meet and photograph a lot of bands, both established and up-and-coming: Creed, Great White, Kiss, Stranger, Metallica and others.
While there were many differences between my experiences in Florida and his years on the Sunset Strip in California, we both share an interest in bringing rock'n'roll home to Eastern Washington. A couple years back, Pyramid Productions officials visited the Omak Stampede Arena to consider bringing bands to this area.
That piqued Knemeyer's interest. He said he's willing to bring Black Valentine to North-Central Washington, possibly Omak, if somebody in the area is willing and capable of organizing a rock'n'roll concert or battle of the bands.
Jeff said his band would come home for just the cost of travel and hotel rooms. When I asked him why his band would play for peanuts, he said he wanted to give music back to the areas that made it possible for him to take his career to Hollywood.
Besides, he said, it's an opportunity to get locals interested in his music, which was influenced by songs on the airwaves 20-plus years ago. Listening to his band's debut CD, which was released June 18, you can hear some of those hard-rock and '80s influences in songs like "Masquerade," "Fallen Angel" and others.
Being on the rock'n'roll scene in Hollywood sounds pretty glamorous. But Jeff told me it's a dog-eat-dog scene, where only a handful of bands will ever get airtime on the radio, and precious few more will ever release their own CD.
That's not the case here, where local musicians have an opportunity to get exposure in more than just the nightclub. And that's part of the allure for Jeff, and Black Valentine.
As we ended our discussion and parted ways, I couldn't help but think about the possibilities of bringing concerts back to our area. "D.J. Sticky" of Sick Donkey Records brings a variety of bands to Cayuse Mountain for the Conscious Culture Fair each summer. And Okanogan Family Faire — also known as the "Barter Faire" — attracts dozens of musicians each October.
But precious few bands come to Omak, even though the city has the Stampede Arena, one of the largest venues on this side of the Cascade Mountains — if the arena floor is used for general admission or seating.
The under-used arena would be a fantastic venue for a mid-summer concert series, with ample parking, easy access and a great location. And the series could feature a mixture of genres with a country-western night, a rock'n'roll show and maybe even some pop music.
If Waterville can bring in big name entertainers, so can Omak. But we'll first have to start with up-and-coming musicians and bands, regardless of their genre. We only need to open our eyes to the possibilities.
Roger Harnack is the editor and publisher of The Chronicle. He can be reached at 509-826-1110 or via e-mail at rharnack@omakchronicle.com.