WASHINGTON, D.C. — Rep. Doc Hastings announced this morning that he plans to retire from Congress at the end of year.
"Two decades ago, the people of Central Washington first voted to place their trust in me to represent them in Congress, Hastings said. "It is with deep appreciation for that privilege that I announce that this will be my final term in office."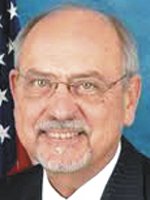 Hastings, 73, of Pasco, will therefore not seek reelection in November.
"It is time for the voters to choose a new person with new energy to represent them in the people's House," he said.
Hastings will host a press conference with his family at 2 p.m. today to explain his decision. That event will take place in teh Pasco Best Western Pluss Inn and Suites' Tuscany Room, 2811 N. 20th Ave., Pasco.
Hasting said his wife, Claire, was a factor in the decision, as were his children and grandchildren.
"Claire has always been my greatest supporter and the hardest part of every week is leaving her Monday morning to catch an airplane to Washington, D.C.," he said. "She and I both look forward with anticipation to the time we will have together and with our family after my term ends in January."
During his tenure in Congress, Hastings has served on mulitple committees and was instrumental in preserving the dams on the Columbia River.