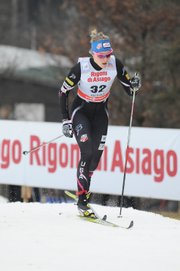 KRASNAYA POLYANA, Russia – Sadie Bjornsen of Mazama led the U.S. women's cross-country ski team by finishing 18th in the Olympic 10K classic race this morning.
All four U.S. skiers finished in the Top 35.
Poland's Justyna Kowalczyk, skiing on a broken foot, captured the gold medal in 28 minutes, 17.8 seconds.
Bjornsen finished in 29:59.7 to lead the Americans.
Charlotte Kalla of Sweden earned silver (28:36.2) and Therese Johaug of Norway took bronze (28:46.1).
The other three Americans were separated by 8 seconds.
Vermont's Sophie Caldwell, who placed sixth in Tuesday's freestyle sprint, was 32nd (31:11.4), Vermont's Ida Sargent was 34th (31:15.1) and Anchorage's Holly Brooks was 35th (31:19.1).