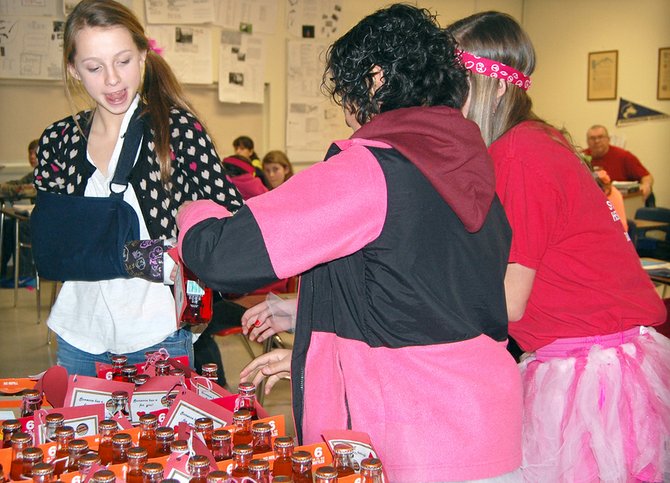 Photo by Jennifer Marshall
Okanogan Middle School student Loryn Moore works around her cast Friday morning to get a good grip on a bottle of Crush soda, given to her from a secret admirer for Valentine's Day. Kristan Romero and Jillyan Taylor, far right, helped deliver the sweet beverages.
OKANOGAN — Okanogan Middle School students treated their crushes to Crushes for Valentine's Day in continuing a 10-year tradition.
For $1, students purchased a strawberry, grape or orange-flavored Crush as a secret-admirer gift for someone else.
"It's just a fun activity," Principal Brett Baum said, noting that it serves as a small Associated Student Body fundraiser. "We sold out in two days."
The soda was delivered during class time. Many students were given more than one bottle, she said.
They were instructed to drink the sodas only during lunchtime, when they could also pay $1 to find out who their admirers were.
If the admirers wanted to remain anonymous, Baum said, they could pay an extra $1 for "insurance."