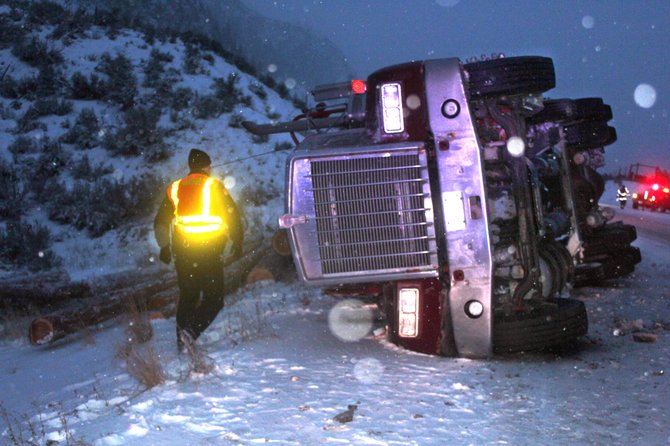 Photo by Roger Harnack
Trooper Jeffrey B. Eifert inspects a logging truck that spilled its load and overturned along U.S. Highway 97 on Monday just north of Riverside.
RIVERSIDE — Icy road conditions are being cited for several crashes that occurred Monday night along U.S. Highway 97 between Wenatchee and Tonasket.
Those conditions were the primary cause in a logging truck crash on the highway just north of town, at the intersection of Dixon Hill Road.
Local resident Duane Betcher, 52, was not injured when his trailer slid onto the southbound shoulder of the icy highway and overturned, flipping the truck on its side.
Logs spilled down an embankment and traffic was slowed while crews cleaned up the scene.
The highway remained open, with troopers directing traffic through the area.
According to the National Weather Service, the weather should be clear through next Monday.
Daytime highs are expected in the mid-30s to low-40s, with overnight lows dipping into the teens in the Okanogan Valley.