A year ago, I wrote about how I don't make New Year's resolutions, but instead set loose goals.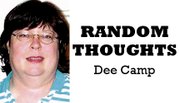 They're more like personal recommendations. I likened them to the Pirate's Code, as outlined in the "Pirates of the Caribbean" movies: "They're more like guidelines anyway."
At that time, I confessed to being a hopeless collector of cookbooks.
Instead of trying the recipes, I tend to read cookbooks cover to cover. (I've had several other people tell me they do the same thing.)
So, at that point, I set a loose goal of making at least one recipe from each of the cookbooks on the overloaded bookshelves in our kitchen.
The cookbooks range from standards, including "The Joy of Cooking," and the plaid-covered "Better Homes and Gardens" cookbook, to oddities such as the 1897 "The Household Guide or Domestic Cyclopedia also Complete Cook Book" and a boxed set of ethnic cookbooks.
I'm glad I set a "loose" goal and didn't have any money riding on the project's completion, since I failed miserably at cooking my way through the bookshelves.
In my defense, or maybe as an excuse, we ended up storing a lot of our son's belongings over the summer as he made the transition from college student to working teacher, and some of the stuff ended up being parked in front of the bookshelves.
As I started my project last January, I set a few rules for myself so there would be a little bit of order to the chaos. I vowed to start on the top shelf, at the left side, and work my way along the shelf.
One by one, I reasoned, the cookbooks would get pulled out, cooked from, and put back on the shelf.
The second rule was that I had to make something from each book that I'd never tried before.
I did this so I wouldn't take it easy on my go-to books and make a dish I'd already tried.
If and when I get to the dog-eared, food-stained "The Joy of Cooking" or my mom's handwritten book, I must try something new.
During 2013, I made four project recipes. Just four. Yes, I failed.
Some of the recipes did, too.
I kept a log of what I'd tried and my reactions to the finished product. You know, in case I ever wanted to write a book or something about the project.
Herewith are the highlights:
• Jan. 26 — Book: "100 % Chocolate: The Saga of Chocolate, With 40 Luscious Recipes," 2002, Katherine Khodorowsky and Dr. Herve Robert. Recipe: Yuletide Chocolate Decorations (chocolate meringue cookies). Comments: Terrible! Don't make again. Dry, powdery, no flavor. We ate a few, threw the rest away.
• April 13 — Book: "Best Kept Recipes," parents and students of Okanogan High School class of 2006. Recipe: Mudslides (chocolate cookies). Comments: Very chocolatey, very rich. Good, but way too rich.
• July 2 — Book: "Light and Easy Holiday Cooking," 2001, Sandra Woodruff. Recipe: Cranberry Chicken Spread. Comments: Good! Made with almonds and chicken (recipe called for almonds or walnuts/pecans and chicken or turkey). Even my husband Al liked it, and he doesn't usually like chicken salad.
• July 14 — Book: "Holiday Fruit, A Collection of Inspired Recipes, Gifts and Decorations," 1999, Georgeanne Brennan. Recipe: Fresh Fruit Spritzers. Comments: OK. Just fruit juice and seltzer water.
So, as we head into 2014, I'm setting a loose goal of continuing the project.
I might be losing ground, though — I got another cookbook for Christmas.
Dee Camp is a reporter at The Chronicle. She can be reached via email at dcamp@omakchronicle.com.