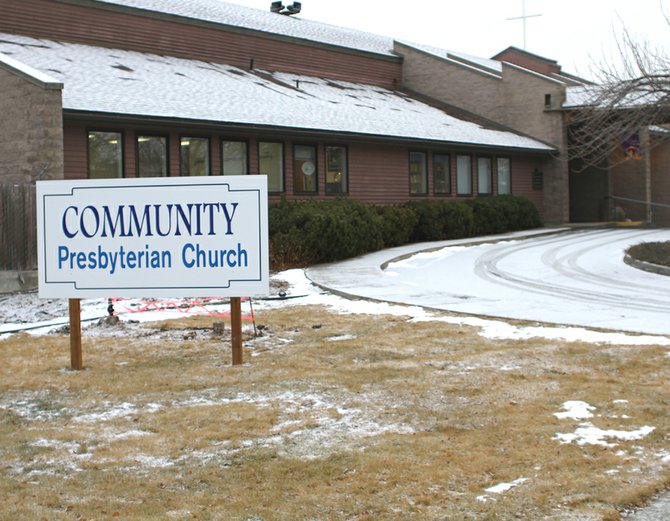 Photo by Garrett Rudolph
Community Presbyterian Church in Omak will host a homeless services evemt from 11 a.m. to 2 p.m. Thursday.
OMAK — This year's "afternoon of services" for the homeless is coming to town Thursday, with the help of 20 different local and state organizations.
Organized by the Okanogan County Community Action Council, the event will take place from 11 a.m. to 2 p.m. at Community Presbyterian Church, 9 S. Birch St.
"The basic concept is that we want to give people who are homeless the opportunity to come to one place and get their needs met at one time," Community Action Executive Director Lael Duncan said.
A hot lunch will be served, and people can get it to go. Warm clothing and haircuts will be provided, along with flu shots and health monitoring by Tonasket's North Valley Hospital. Various housing agencies will be on hand to provide help, along with the state Department of Licensing, the Department of Social and Health Services, veterans services and WorkSource.
Homeless doesn't only mean people without a roof over their heads. Duncan said a lot of people don't know that homelessness is an umbrella term to include those with insecure housing.
"They might be staying with friends, sleeping on someone's couch, or doubled up to where the landlord doesn't know there are that many people living in the house," she said.
However, "People don't have to be homeless to come and seek services. They're just welcome to come. I'm hoping they will come speak to the different agencies and seek the help they need, because that's why we're here."
"We're going to be there because we know people who are going to need the most of our services are going to be there," WorkSource employment-outreach specialist Nancy Nash-Mendez said. "This is a great event that we try not to miss every year."
Nash-Mendez said the agency will set up a booth manned by herself, a representative to help veterans and a business liaison. They will share tips on writing resumes and interviewing, current Okanogan County labor market information and lists of jobs posted from area employers who use WorkSource.
In previous years, Duncan said the afternoon of services has drawn more than 100 people, although harsh winter weather at last year's event in Tonasket prevented some from being able to attend.
"Last year, we had such a horrible amount of snow and not everyone was able to participate," she said. "We had well over 50 people in Tonasket, and I would expect that we will have that number or more in Omak and Okanogan."