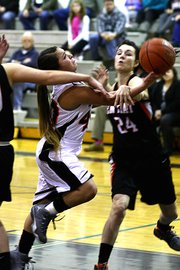 BRIDGEPORT — Entiat denied Bridgeport shots in cruising to a 46-18 win in girls basketball action Tuesday.
Bridgeport (18) – Hourie 0, S. Martinez 0, Varrelman 2, Torres 1, Velasquez 6, Perea 2, Trujillo 0, Y. Martinez 6, Salazar 3, Herrejon 0.
In other 2B girls games Tuesday, Kittitas knocked off Liberty Bell, 45-34.
In boys games, Kittitas beat Liberty Bell, 50-39, and Entiat slipped past Bridgeport, 48-46.
Icy roads in the Yakima area led to the White Swan at Lake Roosevelt and Riverside Christian at Soap Lake games to be postponed.