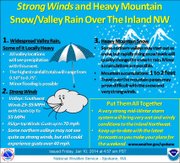 OMAK — The National Weather Service has issued a flood watch for North-Central Washington in anticipation of a "potent mid-winter storm" expected to move into the region today.
The flood watch was issued this morning and remains in effect through Saturday evening in Okanogan and Ferry counties, as well as throughout greater the Grand Coulee area.
A high wind warning has been issued for Brideport, Mansfield and the Waterville Plateau.
"Warm rains and winds will arrive this afternoon and may cause stormwater flood issues," weather officials said. "During this event … rain amounts of 1.5 inches are forecast for areas on the eastern slopes of the Cascades."
The U.S. Highway 97 corridor from Pateros to Oroville is not included in either weather alert.
While river levels will rise, localized flooding is expected to come from clogged drains, ditches and culverts.
"The main impacts from this event will be stormwater flooding … and ponding of water on roads and in other low-lying areas," weather officials said. "Small creeks and streams will also see rises, but no river flooding is forecast."
The storm is also bringing high winds to the area.
"The winds over most areas will be gusty, with some gusts near 70 mph," weather officials said. "Travel over mountain passes may prove difficult with the heavy snow and strong winds expected."
At elevations above 5,000 feet, meteorologists predict snow accumulation could be as much as two feet.
The flood watch and high wind warning follow yesterday's issuance of a hazardous weather outlook for most of North-Central Washington.