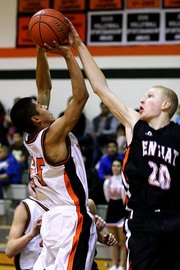 TONASKET — Cascade is heading to Tonasket for boys and girls basketball games tonight.
The Kodiak girls (8-3 overall, 2-3) take on the Tigers (2-8, 0-5) at 6 p.m.
Cascade boys (1-9, 0-4) play Tonasket (7-4, 1-4) at 7:30 p.m.
Also tonight, Chewelah is at Republic and Columbia (Hunters) is at Curlew. Girls start at 5:45 p.m. and the boys at 7:15 p.m.
Wilbur-Creston will get a taste of what it's like to play at the 2B level at Bridgeport at 6 p.m. The Wildcats are moving from 1B to 2B starting in the fall.
In wrestling, Brewster is at Quincy for a 7 p.m. dual meet.
Saturday basketball games include Cashmere at Okanogan, Omak at Quincy, Brewster at Reardan, Republic at Northport, Curlew at Wilbur-Creston, Kittitas at Oroville, Entiat at Lake Roosevelt and Riverside Christian at Liberty Bell.
Saturday were wrestling includes Liberty Bell at Olympia for the Gut Check Tournament, Brewster, Omak, Okanogan and Tonasket at the Cascade Tournament and Oroville, Republic-Curlew at the Mary Walker Tournament.