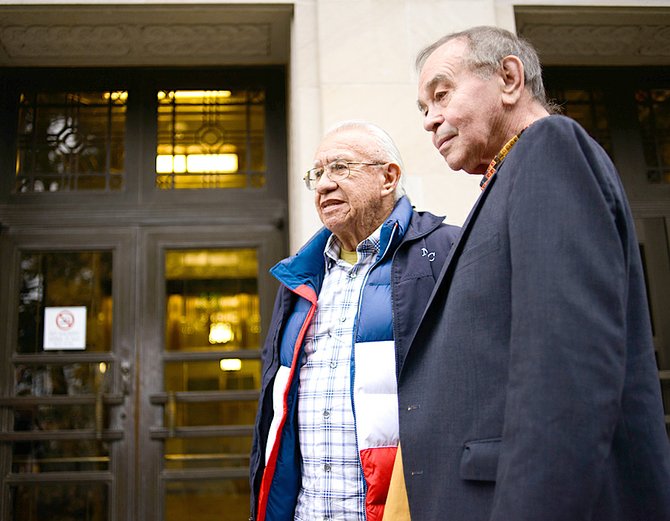 Elliot Suhr
Billy Frank Jr., left, and Hank Adams testified during a public hearing Tuesday on a bill that would allow American Indians to clear "Fish Wars" criminal records.
OLYMPIA — Nearly half a century after hundreds of American Indians were arrested during the "Fish Wars," a bill would give those who were convicted a chance to clear their records.
An executive session on the bill, House Bill 2080, is scheduled for the bill at 1:30 p.m. Friday.
The bill would allow those convicted while exercising treaty rights before 1975 to vacate criminal records. A sentencing court would have discretion to decide whether they were using their treaty rights in expunging the misdemeanor, gross misdemeanor or felony convictions.
"I just thought it was pretty absurd that it's 2013 and nothing has been done about this yet," bill sponsor Rep. David Sawyer, D-Tacoma, said. "It was well past due."
Sawyer introduced the bill last year.
A public hearing on the bill took place Tuesday before the House Community Development, Housing and Tribal Affairs committee.
According to Hank Adams, a Sioux-Assiniboine tribal advocate, the bill addresses arrests of American Indians during the so-called "Fish Wars" of the 1960s and 1970s.
Those American Indians were often part of "fish-ins," illegal encampments set up by American Indian fishermen.
For some who participated in the fish-ins, criminal records have prevented them from traveling outside of the country, adopting children and employment opportunities.
The 1974 Boldt Decision in U.S. v. Washington affirmed the right of land-owning treaty tribes to harvest and co-manage salmon fisheries, a decision later affirmed by the U.S. Supreme Court.
The disputes between American Indian fishermen and state authorities lasted several years.
Authorities would often use heavy-handed tactics during raids and arrests, Adams said
During an encounter on Sept. 9, 1970, policemen used tear gas, clubs and shotguns to arrest 60 people camped along the Puyallup River.
"They would literally drag people out of canoes. It was targeted and intentional," Sawyer said. "It was one of the worst chapters in Washington state history."
Adams thinks the bill needs to be expanded.
"This measure is more symbolic than significant and will have very few applications," he said. "In some ways, we see this as an attempt to rectify past harms done to Indian people," Adams said. "But we think it might be best if it's amended to let a tribal agency or direct descendants petition for a vacation of those convictions."
"I think this is a start," said Northwest Indian Fisheries Commission Chairman Billy Frank Jr., a Nisqually tribe elder. "We can take part in this and make it better."
Many of the Fish Wars demonstrators are now deceased,
making them ineligible for expungement under the current bill.
Frank, now 82, is one of the few survivors arrested and jailed during the conflicts. He was first arrested for asserting his treaty-protected fishing rights when he was 14 years old. From then on he was arrested more than 50 times, he said in an interview.
Despite numerous, aggressive arrests, Frank was not convicted. All of his offenses were civil infractions for violating court injunctions brought against tribes for fishing.
Frank and other tribal leaders hope to see those offenses included in the bill.
"For now, we have owned up to our mistakes," said Sawyer. "I think we still have a long way to go."