MANSFIELD — A Waterville man was killed Thursday afternoon after his vehicle was struck by an unmarked Douglas County Sheriff's Office vehicle.
Robin H. Foster, 27, was pronounced dead at the scene shortly after the 3:29 p.m. crash near Milepost 5, west of town and north of Withrow.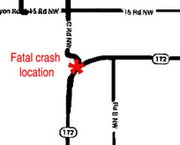 Deputy Richard M. Poppie, 42, of Waterville, was the driver of the Sheriff's Office vehicle. He sustained injuries and was transported to Confluence Health hospital in Wenatchee.
Poppie's condition was not immediately available.
According to the Washington State Patrol, Foster was driving a 1982 Datsun pickup westbound on C Road Northwest and Poppie was northbound on State Highway 172 when the crash occurred.
Highway 172 passes through Withrow and connects U.S. Highway 2 with Mansfield. The highway was closed in the crash vicinity until 8:34 p.m.
The Sheriff's Office's 2008 Ford Expedition slammed into the driver's side of Foster's pickup in the intersection of the two rural roads, the State Patrol report said.
Foster's pickup came to rest on the southbound shoulder of the highway, the report said. Poppie's SUV overturned and stopped on its side on the northbound should.
Poppie was wearing a seatbelt at the time of the crash, the State Patrol reported. But it was unknown if Foster was wearing his.
And it is unknown if alcohol or drugs were a factor in the crash, the report said.
Both vehicles have been impounded in the Washington State Patrol's bullpen in Wenatchee.
The crash remains under investigation by the State Patrol.