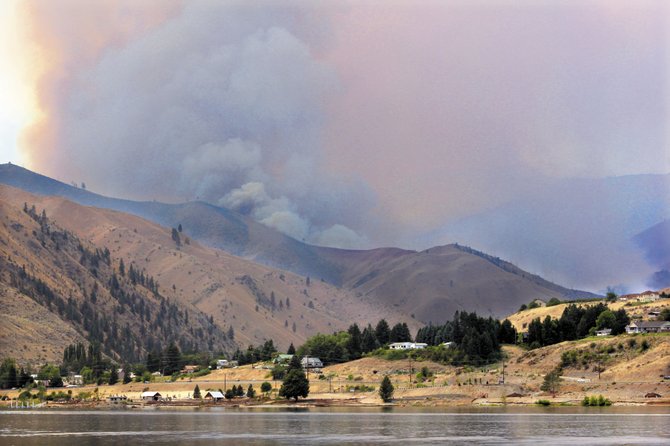 Photo by Roger Harnack
Smoke from the Mill Canyon fire billows above a ridge west of the Columbia River.
ENTIAT — A growing wildfire has prompted the state Department of Transportation to close U.S. Highway 97A between Wenatchee and Chelan.
According to Chelan County emergency management officials, the Mills Canyon Fire has grown to more than 5,500 acres since yesterday.
The highway was closed between Milepost 201 and Milepost 230 at 3:45 p.m. today, with traffic being detoured on to U.S. 97 on the other side of the Columbia River.
Residents in the fire area will be allowed to use U.S. 97A, after checking in with authorities manning roadblocks.
"There is no current estimated time of reopening," a statement released by Transportation officials said.
Local authorities have also closed a number of roads in the fire area, including Swakane Canyon, Mills Canyon and Entiat River roads.
In addition to road closures, fire evacuation notices have been issued to residents of Mills Canyon, Dinkleman Canyon, Entiat River Road, Swakane Canyon, Sherman Canyon and alone U.S. 97A between Swakane Canyon and Entiat River Road.
More than 250 firefighters, 15 engines, three air tankers and four helicopters are aiding in the effort to contain the wildlife that began about 12:20 Tuesday. At least seven, 20-man hotshot teams were included in the deployment.
A fire command center and emergency shelter have both been established at Entiat High School.
The fire is burning quickly in sage brush, grass and timber in several drainages and over steep hillsides fanned by winds of 15-30 mph.
Officials expect the fire to move toward Chumstick Mountain.
The National Weather Service has issued a red flag warning for the fire area until 10 p.m.