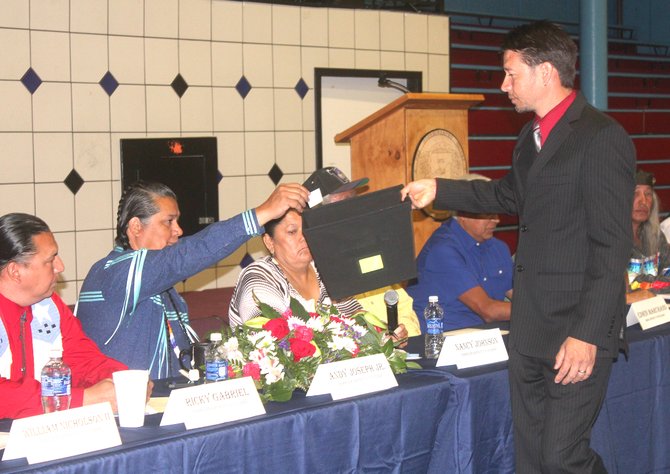 Photo by Roger Harnack
Councilman Andy Joseph Jr. casts his ballot Thursday in the election for the next chairman of the Colville Business Council.
NESPELEM — The Colville tribes governing board has a new leader.
In a 9-5 vote, Jim Boyd of Inchelium was elected Thursday over Mel Tonasket as the chairman of the Colville Business Council in the Nespelem Community Center.
"I'm very honored," Boyd said accepting the job.
Boyd was elected to the council in 2012 and has served as vice chairman for the last several months.
Boyd's election was one of many that took place for leadership positions among the tribe.
Tonasket was subsequently elected vice chairman and William "Billy" Nicholson II was elected secretary.
Once the executive officers were elected, council members then elected their committee chairmen.
New committee chairmen are:
Andy Joseph Jr. — Heath and Human Services
William Nicholson II — Management and Budget
Allen Hammond — Tribal Government
Jack Ferguson — Education and Employment
Joseph Somday — Natural Resources
Stevey Bylilly — Culture
Ricky Gabriel — Community Development
Mel Tonasket — Veterans
Marvin Kheel — Law and Justice
For complete coverage of the tribal election of officers, read the upcoming July 16 edition of The Omak-Okanogan County Chronicle.