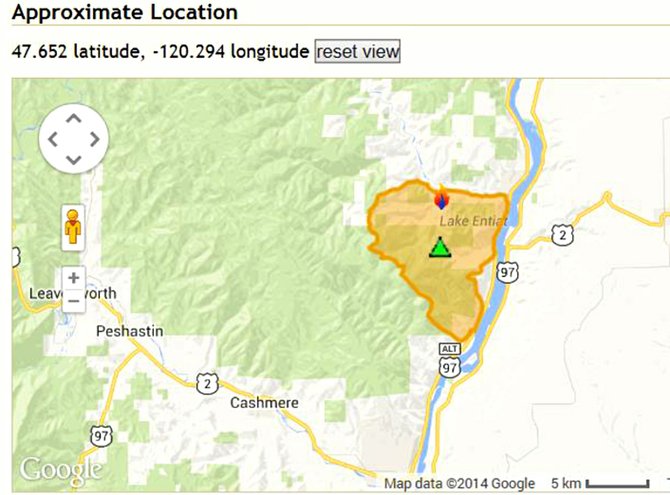 ENTIAT — The Mills Canyon Fire has topped 18,000 acres and continues to burn near town, forcing evacuations and drawing firefighters from around the Pacific Northwest.
The fire, which began Tuesday, forced closure of U.S. Highway 97A as flames burned from the Entiat River valley toward the Columbia River. The closure was lifted Thursday between Entiat and Wenatchee, but has since been closed again.
Motorists are advised to use U.S. Highway 97, across the Columbia River.
Entiat River Road is open to local residents only.
As of early afternoon Friday, hotshot crews from Washington and Oregon are working on the south and northwest portions of the fire's uncontained perimeter, Washington Incident Interagency Management Team 2 said. They are working closely with local resource advisers to minimize impacts of fire suppression activities.
Bulldozers will work along the fire's southern perimeter to extend containment lines, officials said, noting challenges for firefighters include steep, rocky terrain, flashy fuels, warm water and finding safe access routes into remote areas.
Crews worked through Thursday night to protect structures near Roaring Creek and Dinkelman Canyon.
More than 70 residents gathered Thursday evening for an informational meeting.
The fire's cause remains under investigation by the state Department of Natural Resources.
Agencies responding include Natural Resources, U.S. Forest Service, U.S. Bureau of Land Management, Chelan County Emergency Management and Sheriff's Office, and Chelan County Fire District No. 8.
As of Friday afternoon, 18,065 acres of brush and trees had burned; the fire was 19 percent contained. The fire has 646 firefighters and support personnel assigned to it.
A Red Cross shelter is open at the Seventh-day Adventist Church, 1906 Academy St., Wenatchee.