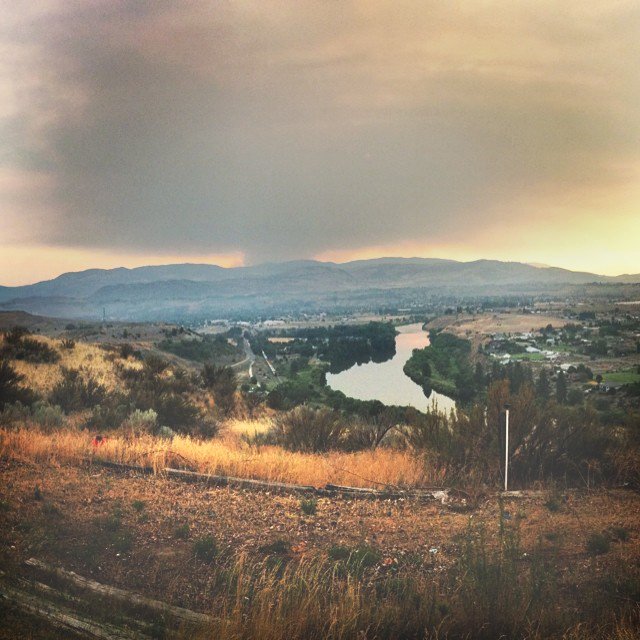 Roni Holder-Diefenbach/Special to The Chronicle
A cloud of dark gray smoke hovers above the Methow Valley, as seen from state Highway 155 just outside Omak.
CARLTON — Travel into the Methow Valley has been curtailed as four wildfires are racing across the landscape from Winthrop to an area south of Carlton.
So far, two structures have been confirmed as destroyed, and Okanogan County Sheriff Frank Rogers said he's had unconfirmed reports that 10 more were destroyed along Jason Lucas Road off French Creek.
One burned in the French Creek area and another burned as sheriff's deputies were issuing evacuation orders in the area of Bill Shaw Road and Watson Draw north of Pateros, Rogers said.
As of late morning Thursday, state Highway 20 was closed east of Twisp from milepost 206 at Finley Canyon to milepost 215 at the Loup Loup Summit. No detour is available, the state Department of Transportation said.
There is no estimated time of for reopening.
Meanwhile, state Highway 153 – the main road into the Methow Valley from the south – is open, but that could change, Rogers said.
Fire broke out Monday afternoon in the Texas Creek area east of Carlton. That blaze, named the Stokes Road Fire, has merged with the Golden Hike Fire, which is burning on the west side of the Methow River, for a combined size of 10,000 acres, said Jacob McCann, spokesman for the Type 2 Washington State Incident Management Team that is managing the fire fight.
Fires also are burning at French Creek, south of Carlton, and Cougar Flats, southeast of Winthrop above Pearrygin Lake. The French Creek fire had burned 3,000 acres and the Cougar Flats fire 5,000 acres as of mid-morning.
Okanogan County Emergency Manager Scott Miller said evacuation notices are being issued to residents of Bill Shaw Road, Indian Dan Canyon, Upper Beaver Creek and Balky Hill.
Rogers, contacted by cellphone while he was issuing evacuation alerts in the Bill Shaw/Watson Draw area, said his deputies have fanned out over the Methow Valley and surrounding hills to notify residents of the fires. Level 3 warnings – the highest level – are being issued.
A Red Cross shelter has been set up at the Twisp Grange Hall, 344 W. Second Ave., and Rogers said another may be set up in Pateros.
McCann said more than 500 firefighters are on the scene and more are on the way. The state has mobilized other departments to assist local firefighters with structure protection.
The fire camp is at Liberty Bell High School, 24 Twin Lakes Road, Winthrop.
Meanwhile, fires are burning at Leahy Junction southeast of Bridgeport, near Entiat, along Lake Chelan at 25 Mile Creek and near Coles Corner west of Leavenworth.
U.S. Highway 2 is closed from milepost 64 to milepost 99 -Leavenworth to the summit at Stevens Pass – because of the latter. State Highway 207 and the Chumstick Highway, both near Leavenworth, also are closed.
There is no estimated time for reopening.