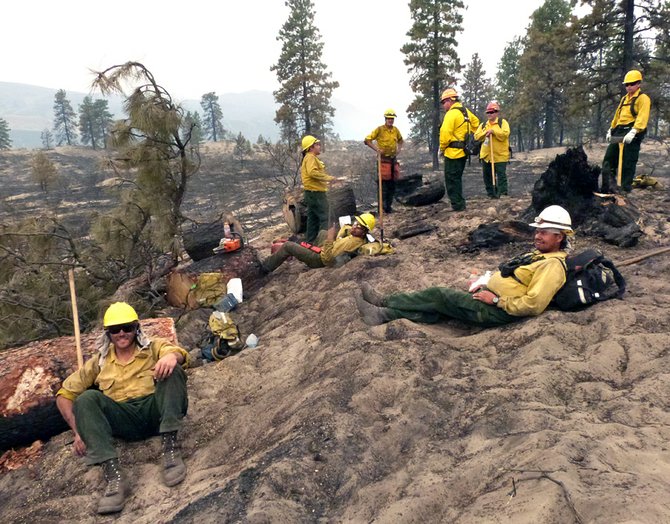 Photo by Al Camp
Colville No. 1 takes a break for lunch at the "Sandcut" south of Malott on Saturday. The members included, from left clockwise, Matt Leonetti, Jory Vallee, Cody LaPlante, Ronald Salas, Lance Torres, Chad Monaghan, Chris Banning and crew boss Isaac Palmer.
MALOTT — Crews from District 8, Mount Tolman and private firefighters knocked down flames Friday south of here after fire jumped the Okanogan River.
Cars were allowed back down the highway Saturday, many honking their horns in appreciation as they passed what is commonly known as the "sandcut."
The fire, pushed by winds from the north, jumped the river and would burn about 2 miles along the river and up to the western edge of U.S. Highway 97.
"We did a back burn," said Chad Monaghan with Marchand Fire, a fire contract crew out of Omak. "We used a skidder to get water around due to the deep sand."
Keeping an eye on the area Saturday was Colville No. 1 from Mount Tolman.
The skidder, also used to move logs, had been dispatched from Ellensburg.
The crew had been fighting a 56-acre fire caused by lightning near Owhi Lake on the Colville Reservation before arriving here.