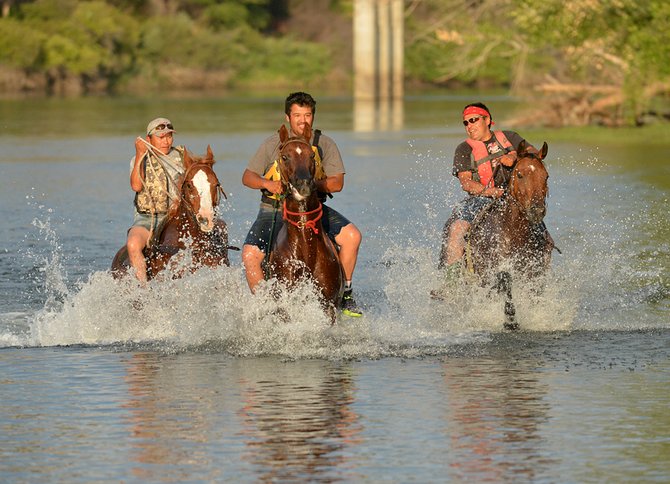 Photo by Al Camp
World-Famous Suicide Race outriders enjoy a splash in the Okanogan River on Sunday. They included, from left, Gary Sam, Phillip Williams and Bass Williams. Practice concludes Friday and Saturday.
OMAK — The final two days of practice for the World-Famous Suicide Race are Friday and Saturday.
There are 31 horses with veterinarian checks. Of those, 10 horses also have qualified to enter the race with swim and hill tests.
Practices conclude this weekend starting with 6-9 p.m. Friday and then 6-10 p.m. Saturday.
Entries will be taken both days and end Saturday night at 10 p.m.
If more than 20 horses qualify and pay to race, runoff races to whittle the field to 20 horses will be 3 p.m. and 5 p.m. Sunday.
If no runoff races are competed (20 or fewer horses enter), there will be a jackpot race at 3 p.m. for those that want to compete.
You must possess a Suicide Race button to get on the dike to see runoff or jackpot races. They will be for sale at the gate leading to the dike.
The Suicide Race is competed after each performance of the Omak Stampede Rodeo on Aug. 7-10.