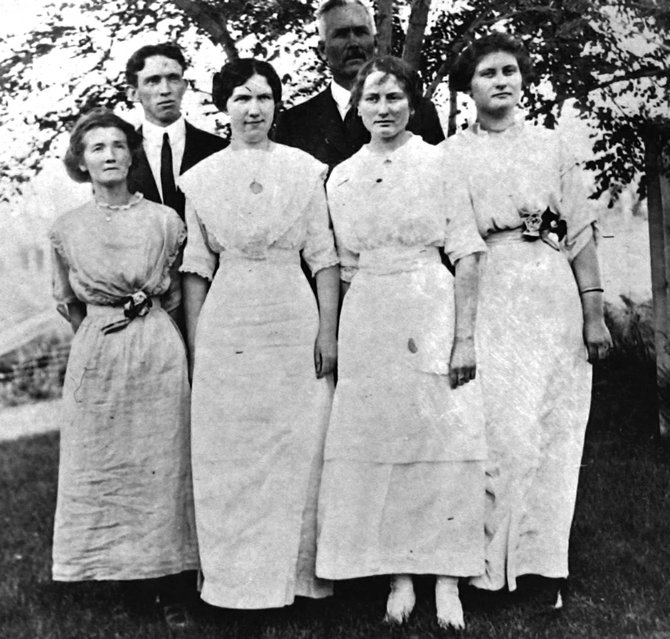 Bridgeport School District
The Bridgeport High School Class of 1914, in the front row from left, were Maude Heller, Grace Summers, Mayme Peterson and Greta Hoover. The men are unidentified.
BRIDGEPORT — Today, Bridgeport High School celebrates a century of graduations.
Since September, the school has reached out to alumni to include in various events, from homecoming to a barbecue and today's commencement ceremony, scheduled for 1 p.m. at the high school, 1220 Kryger Ave.
The Class of 2014 will meet and hear from several alumni, many of whom have stuck around to continue supporting their community.
Douglas County Commissioner and former Bridgeport Mayor Steve Jenkins will address the class, along with School Board members and fellow alumni Janie Jenkins (1966), Zeke Martinez (1987) and Tracy Zahn (1974).
Alumni will also be on hand to present diplomas to this year's seniors.
"I actually tried to get all the alumni," Principal Tamra Jackson said, but the task was tough.
When researching the school's history, "We started and then realized… there was a fire where everything was burnt and all records were lost," she said.
In the years since, some people have donated photos to the school, including one of the first graduating class of 1914.
Maude Heller, Grace Summers, Mayme Peterson and Greta Hoover were the first to receive diplomas at Bridgeport High School.
After graduation, Jackson said she found out Hoover went on to Normal School and studied in a Washington State College summer session, then taught in a school near Mansfield; Heller taught one year at Gordon and then moved to a homestead in Barry; Summers taught in Chelan County; and Peterson became the postmaster in Bridgeport.
Nina (McLean) Spake is believed to be the oldest living graduate. She was in the class of 1935.
Spake, 96, lives with her daughter, Lee Ann Ricks in Colville, alumna Verle Cavadini wrote in a letter to the school.
Spake is the daughter of Ira and Freda McLean and grew up on Dyer Hill above Bridgeport. She has also lived in Pateros and Marcus.
She was trained as a licensed practical nurse in Wenatchee and worked for Okanogan-Douglas District Hospital (now Three Rivers Hospital) in Brewster.
She had four children, Larry, Diane, Lee Ann and Marilyn, and she now has great-great-grandchildren, Cavadini wrote.
"I have known Nina for a long time," she wrote. "We both lived on Pearl Hill and I worked with her at the hospital. She is the most kind, caring and loving person you could ever know."
The Chronicle was unable to interview Spake due to health reasons.
"The graduates of 1914 would probably not recognize a classroom at Bridgeport High School today – chalkboards replaced by Smart boards, tablet paper replaced by laptops and computer screens, manual typewriters replaced by keyboards and touch screens, hardbound books replaced by e-books and the Internet," Jackson said.
Classrooms have changed drastically from as recent as the 1960s, when Jenkins went to school there.
"Not only is the facility, but the education, is totally different," he said. "We didn't have computers, we didn't have spell check, (Microsoft) Word, nothing else. We didn't have the opportunities that the kids now have."
Jenkins pointed to Running Start, a program that allows students to earn college credits – even a complete associate's degree – by the time they graduate high school.
"They've been pretty progressive here," he said. "Things here have changed so much in 49 years. To come out as a senior and have college credits already done, it's really a foot up."
Jenkins said he moved from Mansfield to Bridgeport when he was in about fourth grade, and Bridgeport was known as "the big school."
"The student count at that time was consistent for years and years, about 28 kids. A big class was 32," he said. "Classes have come close to doubling. The town population was about 800-900 in the '60s and it's about 3,000 now."
This year, there are about 47 seniors.
The high school itself has moved around town. Jenkins said it used to be in the building currently housing Enterprise for Progress in the Community, 1400 Columbia Ave.
Around 1964, he said the high school was moved to the current middle school building, from which he graduated in 1965.
The benefits of living and going to school in a small community are what Jenkins remembers best.
"I wasn't very big in high school, and going to a small school like that, everybody had the opportunity to play sports," he said. "I'm not a die-hard sports fan, but I do think it's an important part of education to learn sportsmanship, how to handle winning and losing."
He said small schools offer more opportunities for one-on-one time with teachers, and the community itself is more close-knit.
"When Bridgeport first went to state in football, we hired two Greyhound buses to take community members over there," he said.
Jenkins praised the School Board and administration for tackling such challenges as educating children whose first language isn't English and keeping up with ever-changing standards.
"The school has come a long ways," he said. "They've made national news with their academics and their dropout rate and their graduation rate. They've really done a good job here."
In 2011, Bridgeport placed third in a nationwide contest to have President Barack Obama as the keynote speaker at commencement. Although Obama could visit only the first-place school, Bridgeport seniors were treated to a speech by then-U.S. Secretary of Labor Hilda Solis.
The high school has also received gold awards from the U.S. News and World Report, most recently in 2012, for its high graduation rate and number of students going on to postsecondary education.
Members of the Class of 2014 received scholarships and other awards Wednesday night, a day after their senior trip to Triple Play in Hayden Lake, Idaho.
"They're spending all that hard-earned money they raised," class adviser Brad Skiff said. "It's a good time. I know the kids enjoyed it last year and they'll enjoy it this year."