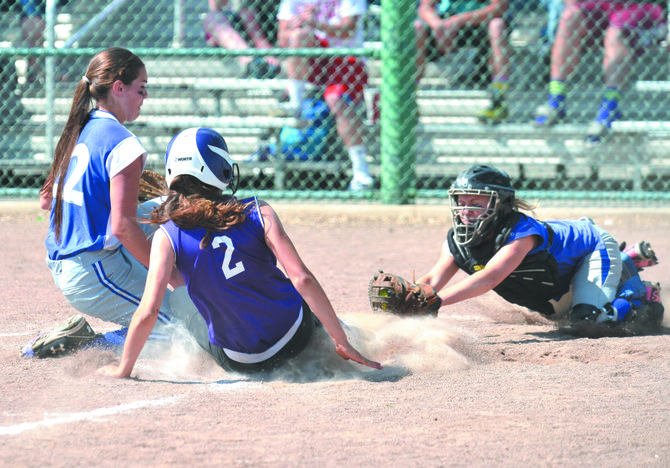 Photo by Al Camp
Haleigh Gibson of Curlew, right, dives to tag Lauren Gelstin of Pateros during state 1B softball Friday.
CURLEW — Curlew pushed Pateros into the consolation bracket in the first round of state, but neither placed in the eight-team 1B tournament Friday and Saturday.
The Cougars came from behind to win, 6-5, in eight innings over the Nannies in the opening game at Gateway Sports Complex.
"This was a great game," Pateros coach Sheri Mortimer said of the Nannies playing their first extra-inning game of the season. "The difference in the game was two errors on our side and zero for them."
Curlew broke open a row of goose eggs on the scoreboard with single runs in the fifth, sixth and seven innings before seemingly putting the game away with three runs in the top of the eighth inning.
Pateros finally broke back onto the scoreboard with a run in the bottom of the seventh to tie the game at 3-3.
The Nannies fought back in the bottom of the eighth.
"I was very pleased with our performance, Mortimer said. "The girls were focused. We ran the bases well, we just needed a few more hits.
"Curlew's centerfielder took two hits away from us, making two diving catches," Mortimer said of Annaliese Fanning.
"We tightened up our game as the game progressed," catcher Haleigh Gibson said.
She was still thinking about a play at home, where Pateros' Chloe Gill was called safe following a passed ball.
"I so thought I got her," said Gibson of her diving back to the plate for a tag. Curlew's bats came alive in the fifth inning.
Fanning's two catches in the outfield and only one defensive error were the difference in the game, she said.
"Annaliese Fanning's catches had to save us runs in the long run," Groth said.
Fanning, asked what she was thinking on the catches, said, "I was not going to drop them. My team was counting on me."
Curlew's Kayleona Fanning struck out 8, walked one while giving up 4 earned runs on 9 hits.
"I love my team," Kayleona Fanning said. "I know they have my back. We're always positive. There's no negative in our dugout."
"We did not let up in that game and my sister did her job pitching," Annaliese Fanning said.
Katarina Wilson of Pateros struck out 6, walked 1 and gave up 3 earned runs on 7 hits.
Both teams left four runners on base.
Curlew (6) – L. Gibson 1-4, RBI, SB; H. Gibson 1-3, R, SB; K. Fanning 2-4, 2R, SB; A. Fanning RBI; Goree 1-4, R, RBI, SB; Reynolds 1-4, 2R; Hofstad 1-3; Keenan RBI.
Pateros (5) – Wilson 2-4, R, 2B, 2SB; Gill 2-4, 2R, RBI, 2SB; White 2-4, R, 3RBI, 3B, HR; Figueroa 1-4; Gelstin 1-2, R; Blackburn 1-3.
---
Curlew could only manage one hit, that being a single by Haleigh Gibson in the first inning, in falling 12-4 to Touchet in the semifinals.
Lindsey Gibson took over pitching in the first inning after starter Kayleona Fanning left the game after being struck by a line drive.
"Lindsey Gibson did a great job holding Touchet in check, but several two-out errors in the fourth inning allowed six runs to cross the plate."
---
Curlew came up a game short of playing for third- and fourth-place, falling to Quilcene, 10-5, in the consolation bracket.
"Quilcene's quick start was keyed by 7 hits in the first two innings plus 3 walks to open up a 7-1 lead," Groth said. "For the game, Quilcene's top four batters collected 10 hits.
"We hit the ball well, but most of the time it was right at a Quilcene player."
Top hitters for Curlew were Lindsey Gibson and Alyssa Goree, who each went 2-for-4.
"Throughout the tournament our hits were scattered out and we couldn't put them together for any big rallies," Groth said. "We played decent defense, but Touchet and Quilcene's hitters were outstanding.
"We are proud of the accomplishments the girls made this year. We won 20 games, which is outstanding for any softball program."
---
Wishkah Valley eliminated Pateros, 2-1, on Friday.
"We left 7 base runners stranded," Mortimer said. "Our defense was solid. We just needed a little more offense to get over the hump."
Wishkah Valley scored two runs in the top of the fourth inning.
Pateros responded with Chloe Gill drilling a triple to drive in Katarina Wilson, who had doubled, for the Nannies' lone run in the bottom of the fifth.
Wilson struck out 4, walked 1 and gave up 2 earned runs on 4 hits.
"We had our chances in both games," Mortimer said. " I am very proud of these young ladies. They played their hearts out. Two very close games that could of went either way. The girls represented Pateros very well at state."
Pateros (1) – Wilson 1-3, R, 2B, SB; Gill 2-3, RBI, 3B; Figueroa 1-2, 2B.