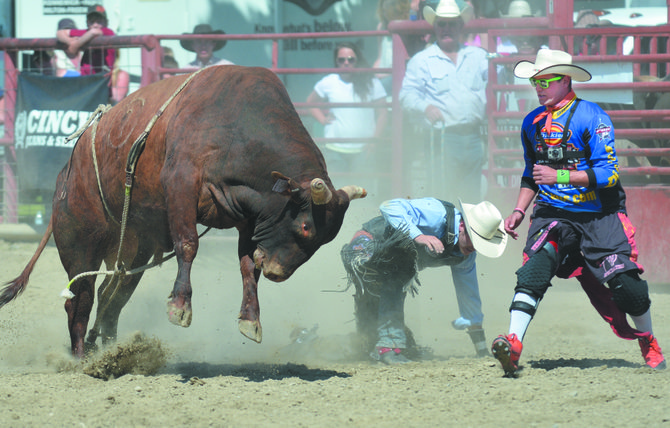 Francis Marchand of Omak finished second in saddle bronc riding at the Tonasket Founders Day Rodeo on Friday and Saturday.
Marchand was competing in the World Class Bucking Horse Association-sanctioned event of the rodeo.
Jacob Stacey of Soap Lake finished first in saddle bronc riding.
"I've not been focusing on PBR," said Marchand, who did both the saddle bronc and bullriding. "I think I dislocated my knee a little on my bull riding."
Marchand's bull went skyward to toss the rider, then its body fell on him. He popped the knee back into place and competed in the saddle broncs to win money.
He next goes with his family to White Swan this week for the Western States Indian Association's rodeo.
Tonasket also featured the inaugural Shane Proctor Invitational bullriding, sanctioned by Professional Bull Riding.
Plus there were some really odd happenings, including a swarm of honeybees in the arena, an exit gate that stopped working and the whiff of skunk.
"I think it went really good" at the rodeo, rodeo secretary Teena Vickers said, praising bull and bronc stock.
Bull stock contractors included 5 Star and Silver Creek Rodeo out of North Dakota, Mike Corey from Moses Lake and Katich Bulls of Keller.
The rodeo also included a chicken race for the kids, barrel racing and team roping.
For saddle broncs, there were prizes for the top riders and top stock contractors.
There were 11 contractor teams, each with three horses that were 5-year-olds and had not been out more than three times. Contractors came from Washington, Idaho, Montana, North Dakota and Canada.
Many came to see the world-class bulls and bullriders trying to ride them.
When the dust cleared in Comancheros Arena, Lawrence Stetson of Williston, N.D., came out the overall bullriding winner based on his 88.5-point ride on Katich's Red Thunder on Friday night.
Stetson earned a buckle for his Friday night first place, another buckle for the average and a total of $5,075.
No rider rode both days, Vickers said, so the all-around title went to the rider with the highest score, which was Stetson.
If he competes in a three-rodeo series, which includes Tonasket and two rodeos in Montana, Stetson will receive a pass to the PBR finals.
Lane Bailey used Corey's Hat Maker for an 86.5-point ride and claim first Saturday.
"That's a good bull, one I've been on before," Bailey said.
Bullfighters both days were Leo Garcia of Moab, Utah, and Ryan Wilson of Kennewick, who work both PBR and PRCA rodeos.
"The bulls bucked really good," Garcia said. "These boys came to ride."
"The bulls really, really bucked good," Wilson said. "It was a good first-year (PBR) event. You've got the mountains here and a laid back, cool little town."
The PBR bull riding took the place of the Dokey Ives Memorial, which also featured bull riders.
"It's close to other events," Wilson said. "It can only get bigger and better."
"Last night (Friday) was a great show," Tonasket Comancheros president Lloyd Caton Jr. said. "We had world class cowboys and stock."
Caton rattled off a litany of faraway locations for the cowboys, including Colorado, North Dakota, Texas and Saskatchewan, Canada.
"They came from all over for the world championship stock," Caton said. "I don't know if we've ever seen the world caliber cowboys and stock we had last (Friday) night."
"I thought the bull riding was good, the stock was excellent," WCBHA executive director Bobby Pecora said, noting this was the second year the saddle bronc association competed in Tonasket.
Former world bullriding champion Shane Proctor, who graduated from Coulee Dam's Lake Roosevelt High School, lives in North Carolina and has his name associated with the PBR event, did not attend.
He was missing due to a "medical" problem, which sent him to Tennessee, Comanchero board member Roger Sawyer said.
"We had a great crowd at the start of Friday," Sawyer said.
"I think things went really good Friday night," Vickers said. "It was a little longer than we wanted. The crowd was better Saturday, but you always want more."
Saturday's final round of 10 bullriders took a little longer than normal to sort out due to only six head being ridden, Vickers said.
"So, we had to go back to top watch times to pick the next four riders," she said. "Although they did not ride, they stayed on the longest."
The total pot was $16,700 before paying cowboys and a percentage to PBR.
Rodeo Chairman Paul Vickers and his wife, Teena, plan to catch up on some sleep. Teena Vickers also needs to get over a head cold.
They said the rodeo appears to be a go for next year, although the couple said they would prefer not to be at the helm after 15 years with the Comancheros.
The Vickers have one grandson and have another grandchild on the way in November.
"That's what we want to do is be with family and do junior rodeo when they get older," Teena Vickers said. "I think it's time for new blood, a newer generation."
Results (Top 4 paid)
Friday night bulls (35 riders); buckle sponsor: Coleman Oil
1, Lawrence Stetson, Williston, N.D., 88.5 points.
2, Jason Malone, San Antonio, Texas, 87.
3, Dallee Mason, Weiser, Idaho, 86,
4, Taryl Smith, Litchville, N.D., 85.5.
Saturday (32 riders); buckle sponsor: Double S Meats
1, Lane Bailey, Athena Oregon, 86.5.
2, Taryl Smith, Litchville, N.D., 83.
3, Derek Kolbaba, Walla Walla, 81.
4, John Smith, Malta, Mont., 76.5.
Average; Kinross
1, Stetson Lawrence, 88.5, $5,075.
2, Jason Malone, 87, $3,655
3, Lane Bailey, 86.5, $2,235.
4, Dallee Mason, 86, $1,420.
5, Taryl Smith, 85.5, $723.
6, Jason Malone, 85, $4823
7, Taryl Smith, 83, $362.
8, Derek Kolbaba, 81, $241.
World Class Bucking Horse Association Results; spurs sponsor: Kuhler and Double A Logging
Riders
1, Jacob Stacey, Soap Lake, on 2 for 151, $1,320.
2, Francis Marchand, Omak, on 2 for 148, $990.
3, Leroy Eash, Fortine, Mont., on 2 for 144, $660.
4, Andrew Evjene, Melville, Mont., on two for 138, $330.
Contractors
1, Bar C5 Rodeo, $2,520.
2, tie, Justin Two Good and Frank Wyzykoski, $3,150.
4, Jess Martin, $630.
Team roping; buckle sponsors Ty Olson Construction and Sawyer Reman and Reload
Caesar Bobadilla and T.J. Symonds, 41.05 seconds on three head, each won $455.